How Much To Rent an RV?
Before renting an RV, the first question is, how much does it cost to rent an RV? The type of RV you rent can greatly influence how much you pay for your rental. The amount of time you rent it for can also impact the price.
Finding a rental RV within your budget can be difficult, but only a few people want to purchase an RV outright. For example, one of the main factors that can impact the amount you spend on your rental is the mileage you put on the RV.
Please continue reading to learn everything you need about how much you should spend on a rental RV. In addition, we will discuss other fees that go along with these rentals so you can prepare yourself financially and set your budget.
RV Rental Prices
Unfortunately, giving a direct price on how much you should expect to spend on an RV rental monthly or weekly can be difficult. The price varies significantly based on several factors, but the main factor influencing the price is the type of RV you want. Below, we will discuss the price of different RVs when they're brand new. These prices are based on a nightly basis.
Class A RV: between $350 and $450
Class B RV: between $200 and $350
Class C RV: between $225 and $400
Travel trailers: between $125 and $200
5th wheel trailers: between $150 and $300
If you rent an RV that's at least ten years old, you can knock off $100 from these prices. The older you rant, the more affordable the rental is. Class A RVs are more expensive than the other types because they have more luxury features and are larger.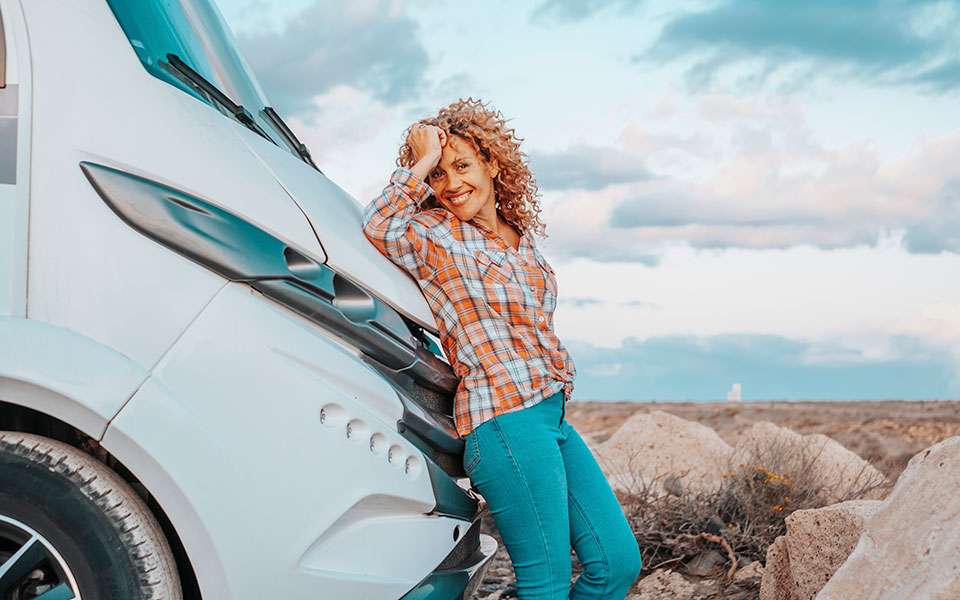 Average Cost of RV Rental
Aside from the type of RV your rent, other factors can contribute to the monthly or weekly price you pay for your rental.
The RV types
The age of your RV
The area you rent your RV from
The rental company will discount their nightly prices if you're looking for a long-time rental. So, it would be more affordable to rent the same RV throughout your trip instead of switching RVs halfway through.
Additional Fees and Prices
There are more fees you need to consider before renting your RV other than the nightly rental fees. The following are other common fees a rental company will tack on when you borrow an RV.
Set up/ Delivery Fees: some RV owners will offer to set up and deliver the RV to your location. This service often comes with a fee, so you'll need to consider that before you accept this offer. Usually, if the owner delivers the RV to your location, it will be an additional $200.
RV Campground Rates: if you want to take your RV to a campground, you need to consider the right of your nightly campground fees. Fortunately, most of these fees are affordable even when you visit a nice campsite.
Gas: one of the most important factors you need to consider before renting an RV is that you are responsible for the gas. Unfortunately, it can be difficult to estimate your gas prices because they fluctuate based on the day and location you go. Assuming the highest gas prices would be best when you factor in this price.
Cleaning Fees: Some RV owners will charge you a cleaning fee after you return the rental. However, this is not always the case. You'll want to ask if they have cleaning fees before renting the RV. Otherwise, you could spend an additional $100 on these fees.
Taxes: RV rental taxes are one of the sneakiest price factors people don't think about. For example, if you rent an RV outside your state, the taxes could be different than what you're used to.
Price Per Mile/ Mileage: some RV rentals charge you extra if you take the RV a longer distance. So, in addition to nightly rental fees, you must consider mileage fees. Ask the rental company if they have mileage limitations before renting the vehicle.
Insurance: One thing that you should take into consideration is insurance. However, most renters have their own insurance which ensures that the vehicle will be covered in the case of an accident or theft. Make sure that when you're looking to rent an RV, the renter has a valid insurance policy that protects you and the vehicle. It's much easier and more relaxing to drive a vehicle that is insured against all possible outcomes. Some insurance companies offer a daily insurance plan, while some offer weekly or monthly plans for renters. There are different types of RV insurance and you can learn about them here. 
Most RV owners or rental companies will also charge a $500 deposit. However, this deposit is usually refunded. If you didn't damage the RV during your trip. However, they will likely keep the deposit for repairs if the RV receives any damage.
Average Total RV Rental Costs
Now that you know about the hidden expenses of renting an RV, it's time to tell you other factors that can alter your price.
RV rental duration
Rental location
Number of miles during the rental
Number of days or nights you rent the RV
RV type
These are the average prices people spend when they rent an RV based on duration:
One day: between $75 and $350
Seven days: between $500 and $2400
One month: between $1750 and $10,000
Budgeting your trip based on how long you plan to spend renting your RV would be best.
Tips for Staying in Budget While Renting an RV
The hardest part about renting an RV is staying within your vacation budget. Here are some tips to help you with your budget to stay within your price range.
People with a tight budget should rent an older RV to save money. These older RVs offer the same comfort amenities at a lower price.
Stick to the necessities when renting an RV. You don't need an RV with the most expensive interior.
Ask about discount offers the rental company or RV owner offers. Many people offer discounts if you rent the RV long-term.
Pay attention to your mileage to ensure you don't exceed any mileage limitations. You don't want to tack on unnecessary mileage fees.
Reserve your spa at the campground months in advance. The sooner you book your spot, the less you'll have to spend.
If you find a good deal on gas, you should stop and fill your tank.
Check your RV tire pressure daily to ensure you're saving on fuel costs. If you're overloading your RV, you'll spend more on gas than necessary.
5 Tips for RV Renting
No matter which type of RV you rent, follow these tips to save as much money as possible.
Rent your RV during the offseason. Many RV owners offer discounts during the winter because fewer people are interested.
Drive carefully in your RV rental to get your deposit back.
Plan your meals and routes so you can get an accurate budget.
Best RV rental company
Choosing an RV rental company really depends on you and your preferences. If you're looking for excellent customer service and reliability, then you can opt for a national company. If you want to rent an RV that is close to you, then we suggest opting for a local company. 
Also, ALWAYS read online reviews, they will tell you a lot about the company you're considering. People and their opinion matter. Bear in mind that not all of those opinions are fair, but they can help you decide what is best for you. When choosing an RV rental company, you have to consider their price, selection of vehicles, and customer service. This is the holy trinity when it comes down to comparisons. If you have any more questions, our experts at CheapRV.com can help you decide what vehicle would be ideal for you and your future adventures!
Final Thoughts
Now that you understand how much it will cost to rent an RV, it's time to budget your trip. Our tips will help you save as much money as possible to enjoy your vacation. Before renting your RV, you should ask the owner about any additional fees or discounts available. Many owners require you to drop $500 on a deposit in case any damage happens on the road.