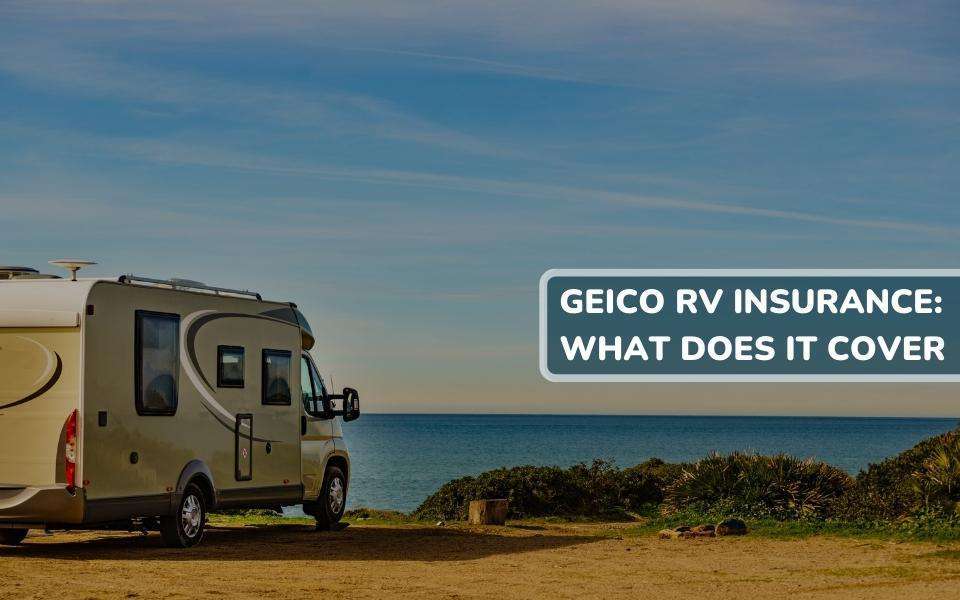 GEICO RV Insurance: What Does It Cover
Why you should consider GEICO RV insurance when purchasing an RV, and find out what does it cover. Not only do you need to consider how much this RV will cost, but also how to insure it. Insurance is not just necessary when driving — parking at campgrounds also requires you to have Insurance for state compliance.
Geico offers various insurance plans for RVs, and whether you're driving or parking your RV, Geico can help you get the best coverage possible. We'll cover the details included in the GEICO RV insurance packages and how to use them in this review.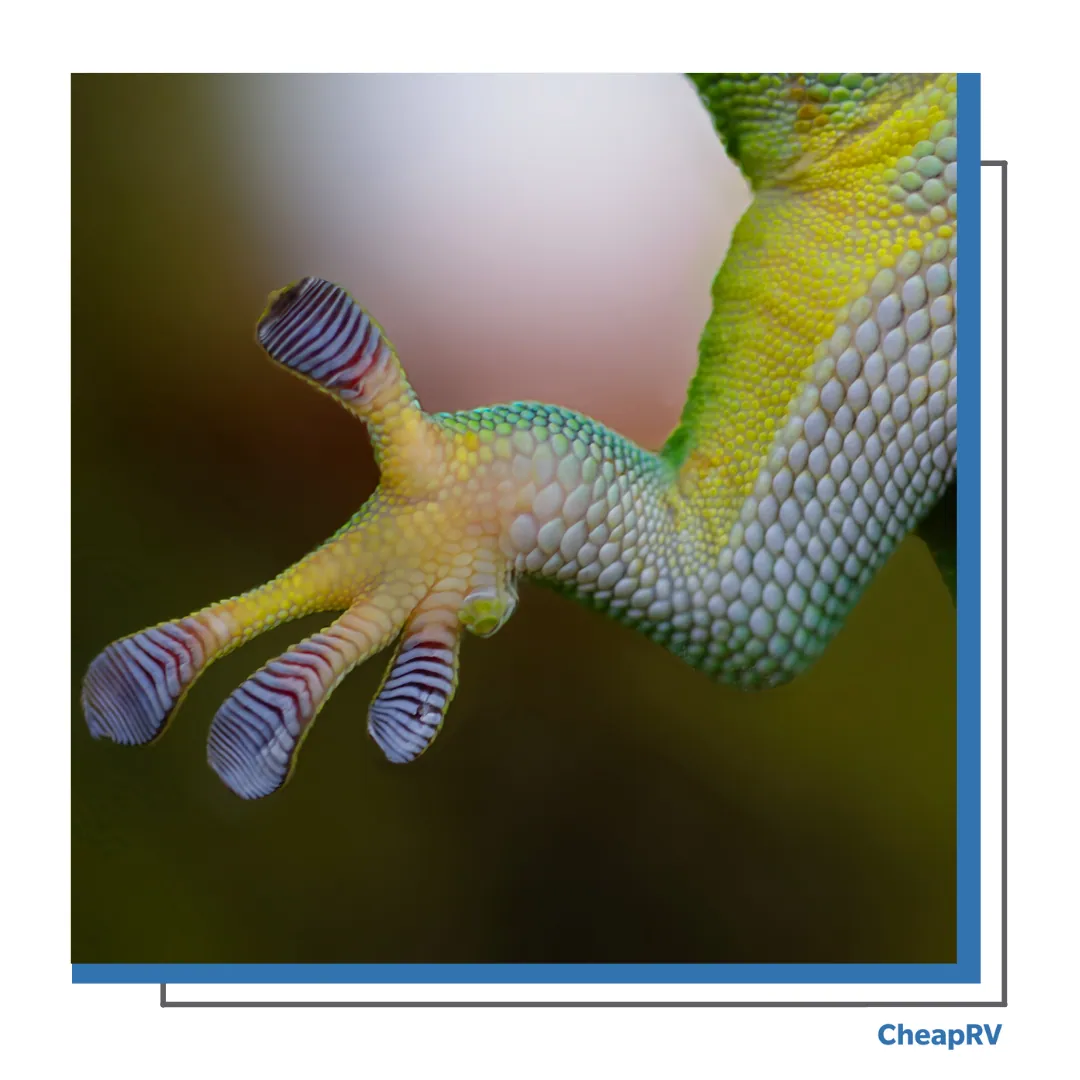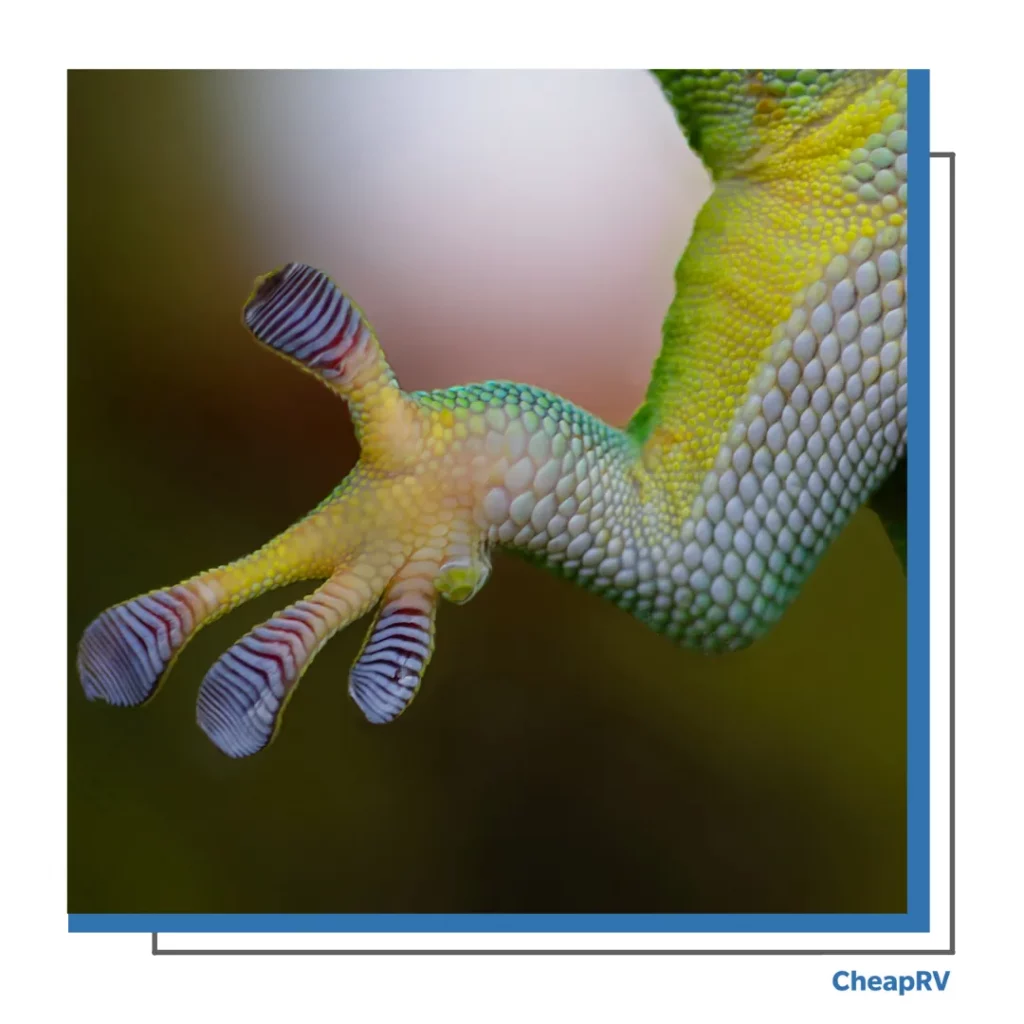 GEICO RV Insurance Reviews: What Does their RV Insurance Covers
GEICO RV insurance is designed to help you get the most out of your experience, whether traveling solo or with a group. With GEICO, you'll get the coverage you need and the peace of mind that comes with it.
GEICO provides towable and motorized Insurance for all RVs, so you can travel easy knowing that you're covered. In addition, if your RV goes through irreparable damage, then with the Total loss coverage, you will get a replacement package that even covers your lost items.
GEICO offers vacation liability coverage which covers property damages and personal injury sustained at a campground or campsite. Also, staying at GEICO-insured locations qualifies you for medical payment coverage automatically. This coverage includes free repair of the windshield if any accident occurs.
What is GEICO RV Insurance?
GEICO is one of the biggest RV insurance companies in the country. They have been in business since 1936, and they have been servicing their customers by offering high-quality insurance coverage at affordable rates.
GEICO offers insurance packages for properties from homes to automobiles. In addition, they have multiple insurance plans, including insurance coverages for vacationers and campers that cover RVs.
GEICO RV insurance is a great way to protect your investment if you're going on an extended trip or prefer to stay in one place for a few days. The most important thing is to find a policy that matches your needs, which includes specifically needed coverage options.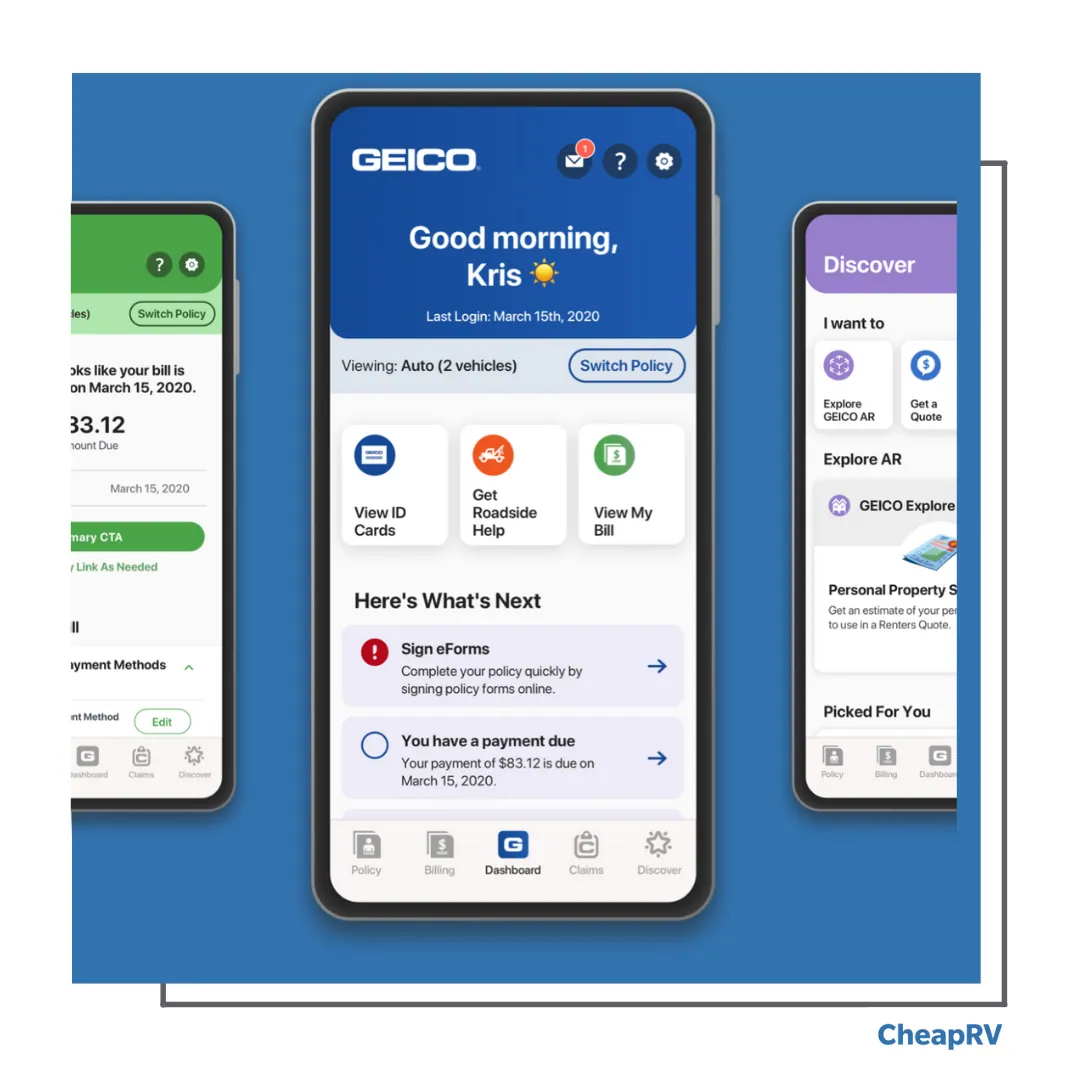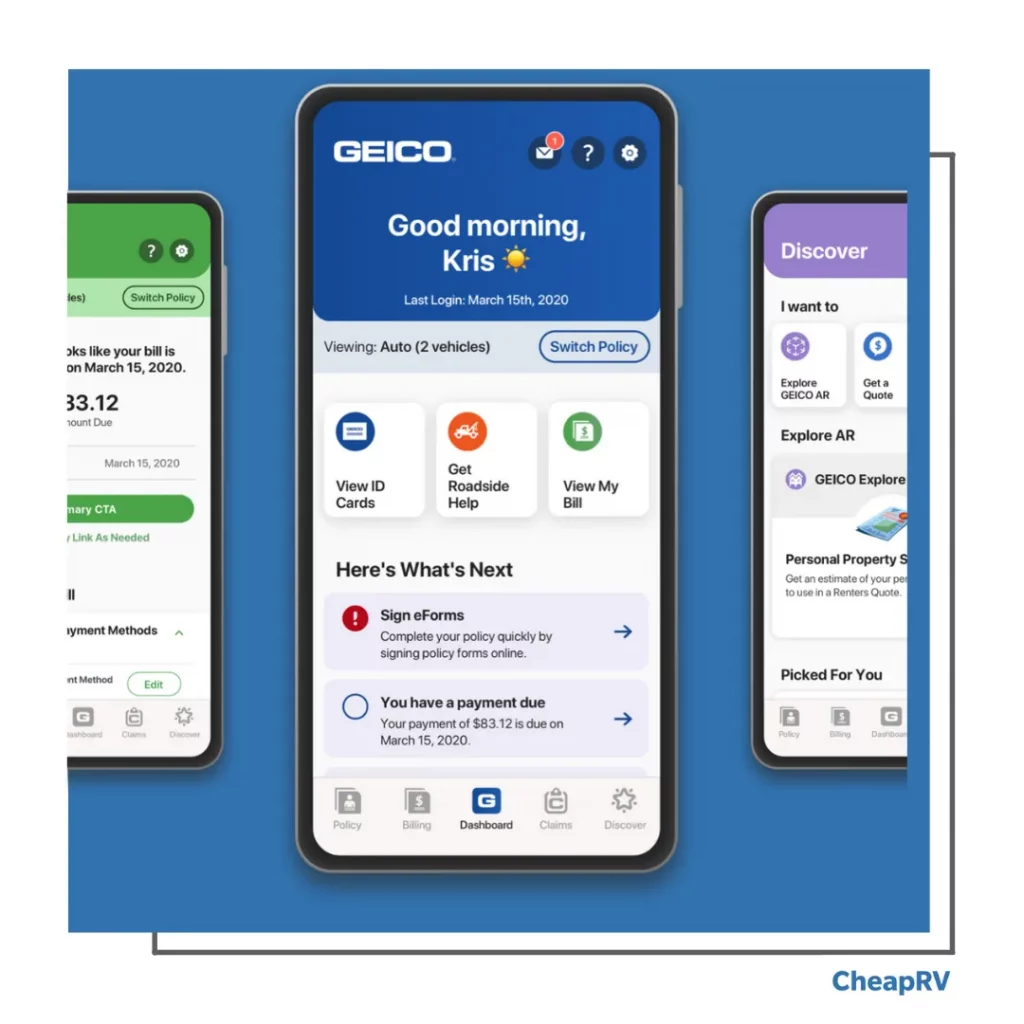 GEICO RV Insurance Plans
GEICO offers extensive RV insurance plans for all states in the United States. The Insurance plans cover every possible scenario, from personal RVs to a business owner with multiple RVs, and every possible scenario, from a simple breakdown to a severe accident.
Now Let's discuss in detail the various RV Insurance coverages offered by GEICO and what they entail.
Medical Payments Coverage
GEICO offers the Medical Payments package as an add-on to your policy. This Package covers medical payments accrued from your RV, whether parked or on the road. In addition, the plan covers all medical expenses regardless of the fault.
If you suffer a crash or other emergency while traveling, this plan will also cover RV emergency expenses such as meals, lodging, and transportation home after an accident. Unfortunately, travel Trailers do not benefit from this.
Total Loss Replacement
The Total Loss Replacement package is designed to replace your RV if you suffer an accident that incurs irreparable damage within 1 to 4 years of purchase. GEICO will also furnish the new RV to taste.
However, suppose your RV is 5 to 7 years old and experiences irreparable damage. In that case, you will either get the original purchase price or the current value for your RV, depending on the number of years and factors involved.
If your RV is older than eight years (or has more than 100,000 miles on it) and experiences irreparable damage, you will be paid out for the value of the original purchase price of your RV.
Vacation Liability RV Insurance
This insurance plan covers losses suffered at the campground or vacation site. It includes medical expenses, legal fees, property damage, and other costs related to injuries caused by accidents at your campsite or vacation spot.
The coverage sum usually ranges from $9000 to $11,000, depending on your vehicle type and other factors. However, RVers are required to give GEICO detailed information on their vacation plan before they buy this policy from them.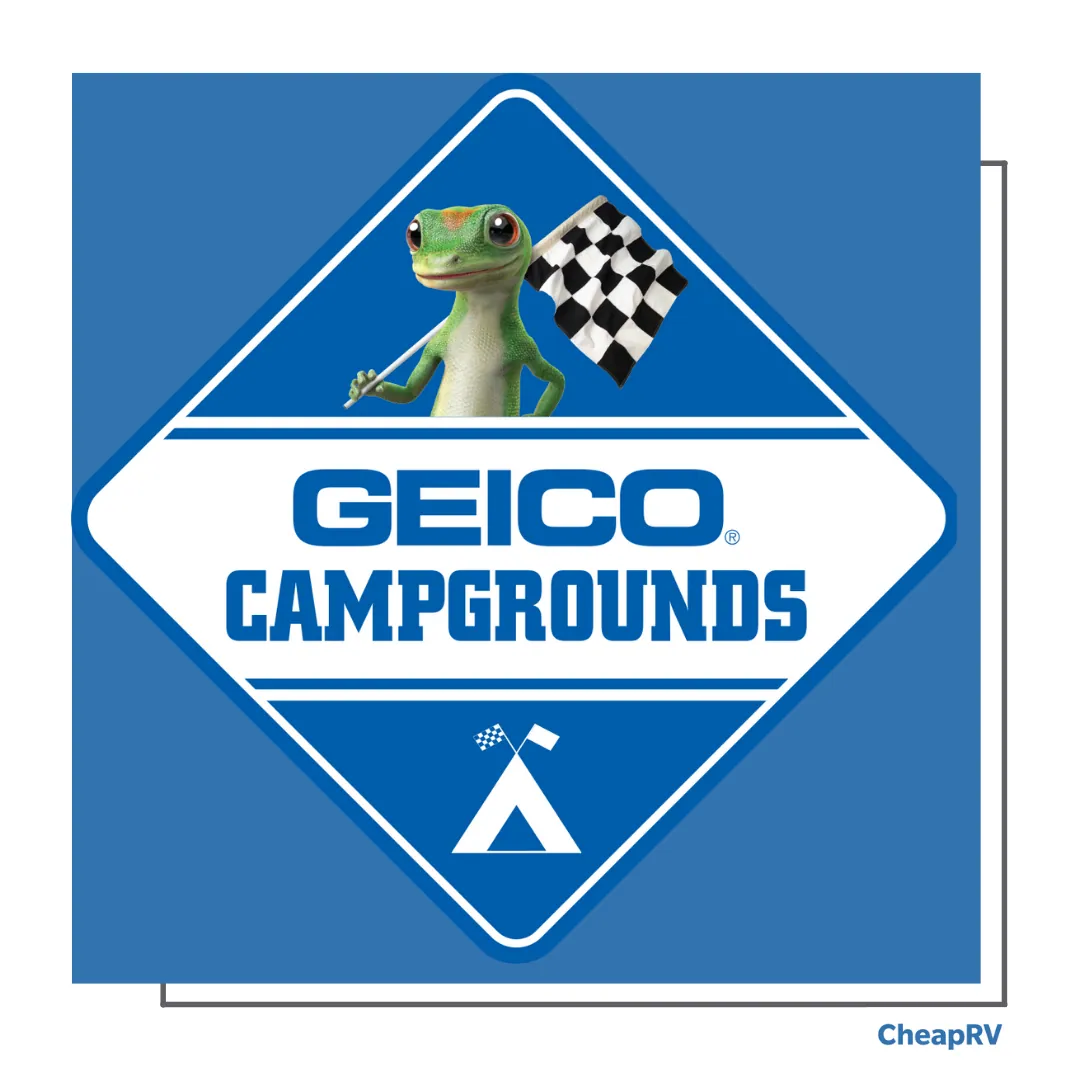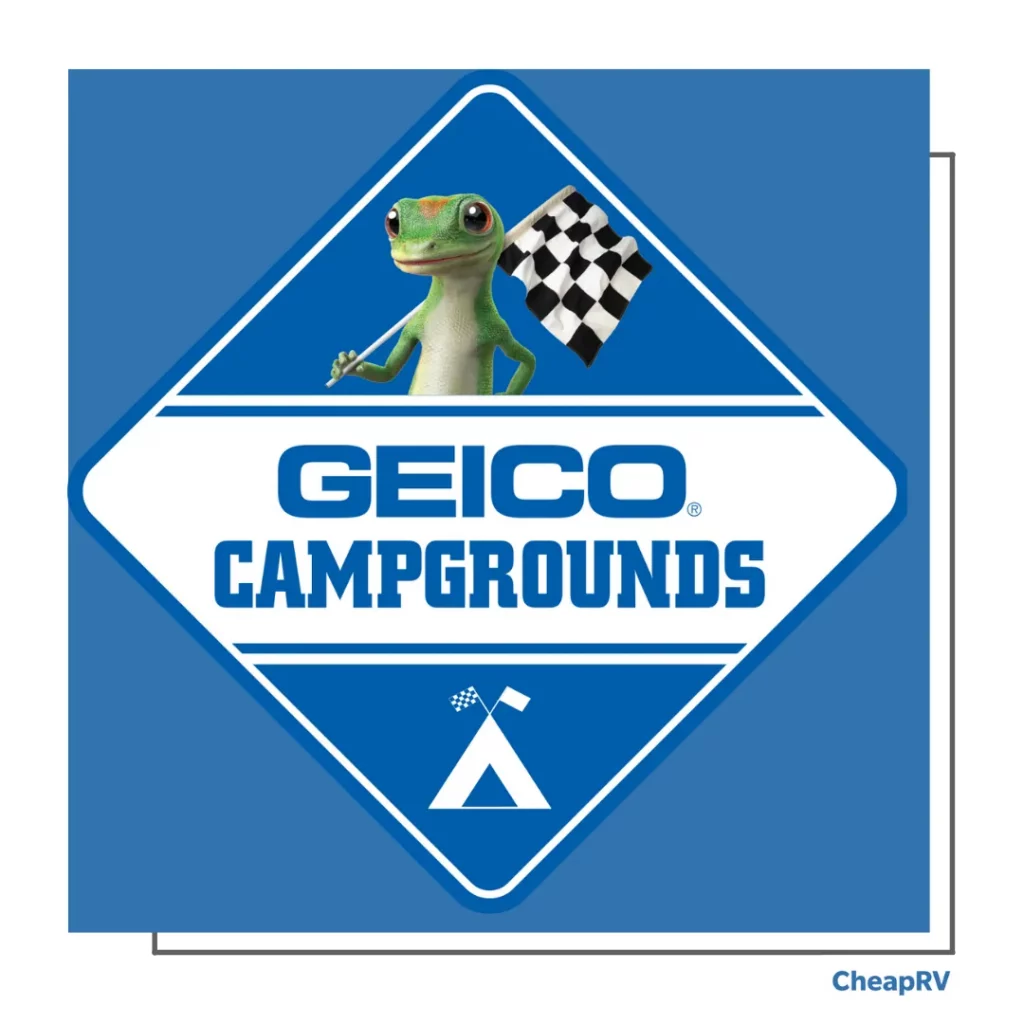 Windshield Replacement Or Repair
GEICO RV Insurance is a comprehensive package that offers protection for your RV, its accessories, and its passengers. In addition, the policy covers the cost of maintenance services in case of any damage to the vehicle.
It includes any windshield damage or repair costs. However, if your windscreen faces irreparable damage, GEICO will only charge you $45 to $55 for replacing it.
A damaged windshield could hazard your safety while driving and other motorists on the road. That's why it is essential to have coverage for repairing or replacing your damaged windshield.
The Types Of RVs GEICO Insurance Covers
GEICO Offers Insurance for various types of RVs. However, their Insurance packages are more focused on towable and motorized RVs.
GEICO offers Insurance for the following types of motorized RVs:
Class A motorhomes

Class C motorhomes
GEICO offers Insurance for the following types of RVs:
Fifth-wheel travel trailer

Campers

Folding camper trailer

Truck campers

Travel Trailers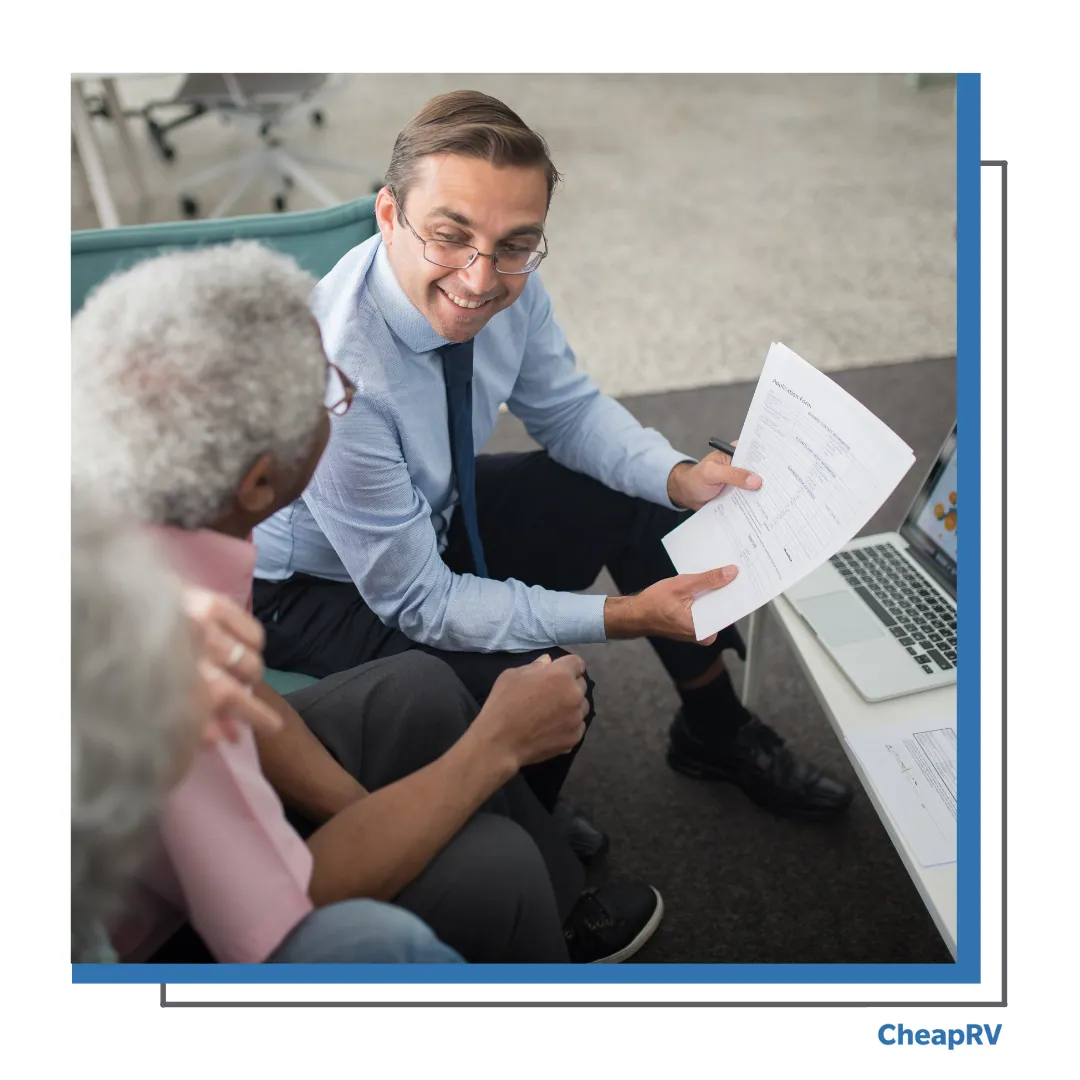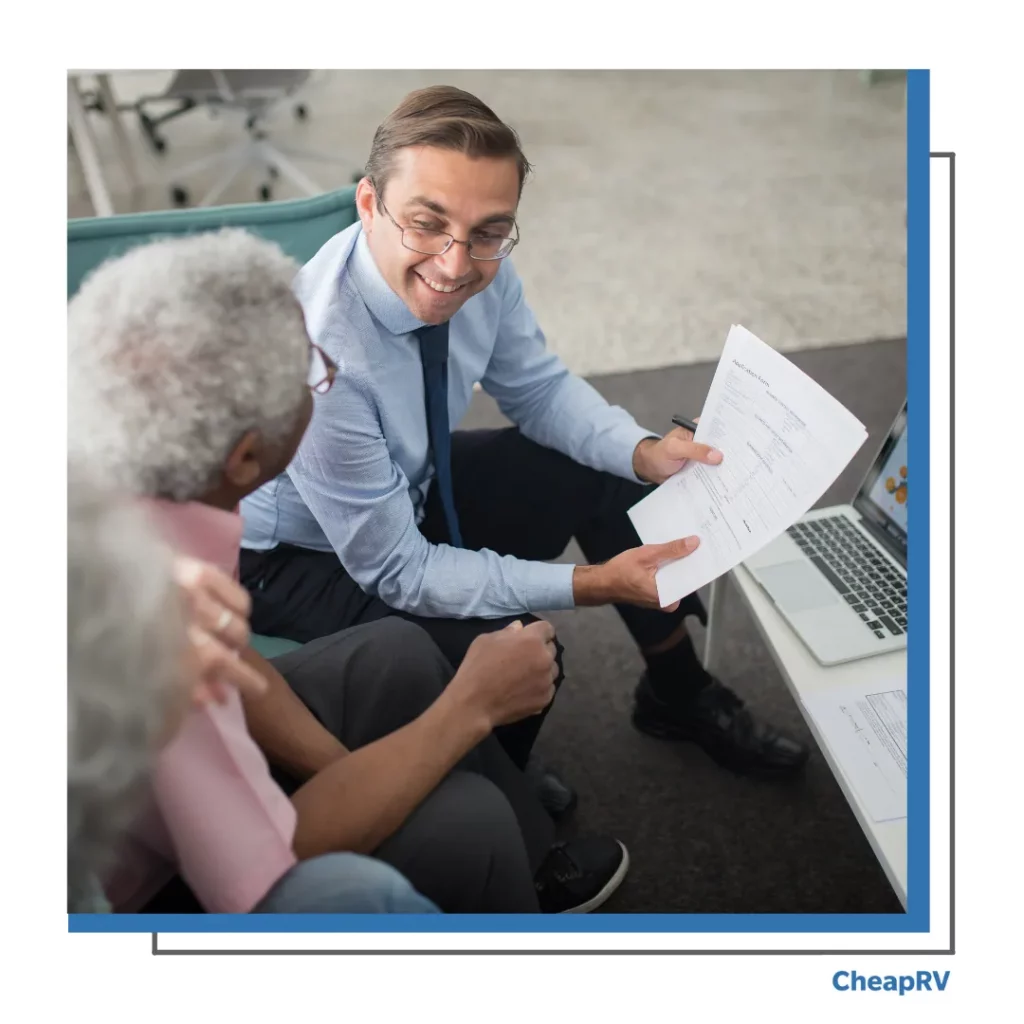 GEICO RV Insurance Basic Policy
GEICO offers Liability Coverage to its Basic Customers. Although, in some states, RVers are required to have this Insurance on their vehicles. If your RV causes any damage to other people, their pets, or properties, GEICO's Basic Plan will cover the expenses to the victims but won't cover any damages to your RV.
But if you add collision coverage, you will get coverage for any damage done to your RV. The policy covers property damage expenses to other people ranging up to $100,000 per accident. It also covers bodily injury expenses up to $50,000 per person and $100,000 total per accident.
Is It Possible To Get GEICO's Insurance Online?
If you're looking for a new RV insurance policy, it's essential to know that GEICO offers online applications. So you don't have to go into a physical office and fill out paperwork. Instead, you can apply for GEICO insurance online by creating an account on the company's website.
When you create an account, you will get a unique ID which you'll use to log in and get insurance details and information. You can also apply for Insurance and get a status update through the account.
When creating an account, select the type of car you want to insure before starting the application process. The application will then ask for your name, address, email address, zip code, phone number, and birth date.
After submitting this information, you will receive an email confirming your enrollment with GEICO within 24 hours.
GEICO RV Insurance Coverage: Important Things You Should Know
GEICO is one of the leading insurance companies in the country. It has been around for over 80 years and provides coverage for millions of people annually. The company offers several insurance policies, including auto, motorcycle, and boat insurance.
Even though GEICO's RV insurance is a little limited compared to its standard auto coverage, it still offers more options to its customers than most Insurance companies do.
The company does not offer gap coverage on its RV policies; you can add other insurances if needed. For example, if you want theft protection on your vehicle, you can add comprehensive coverages like fire and theft damage exclusions or vandalism.
The company offers the most affordable and reliable Insurance you can find in the country. And with their Premium Insurance, you can have collision, liability, and comprehensive coverage for your RV.
Factors That Affect The GEICO Insurance Cost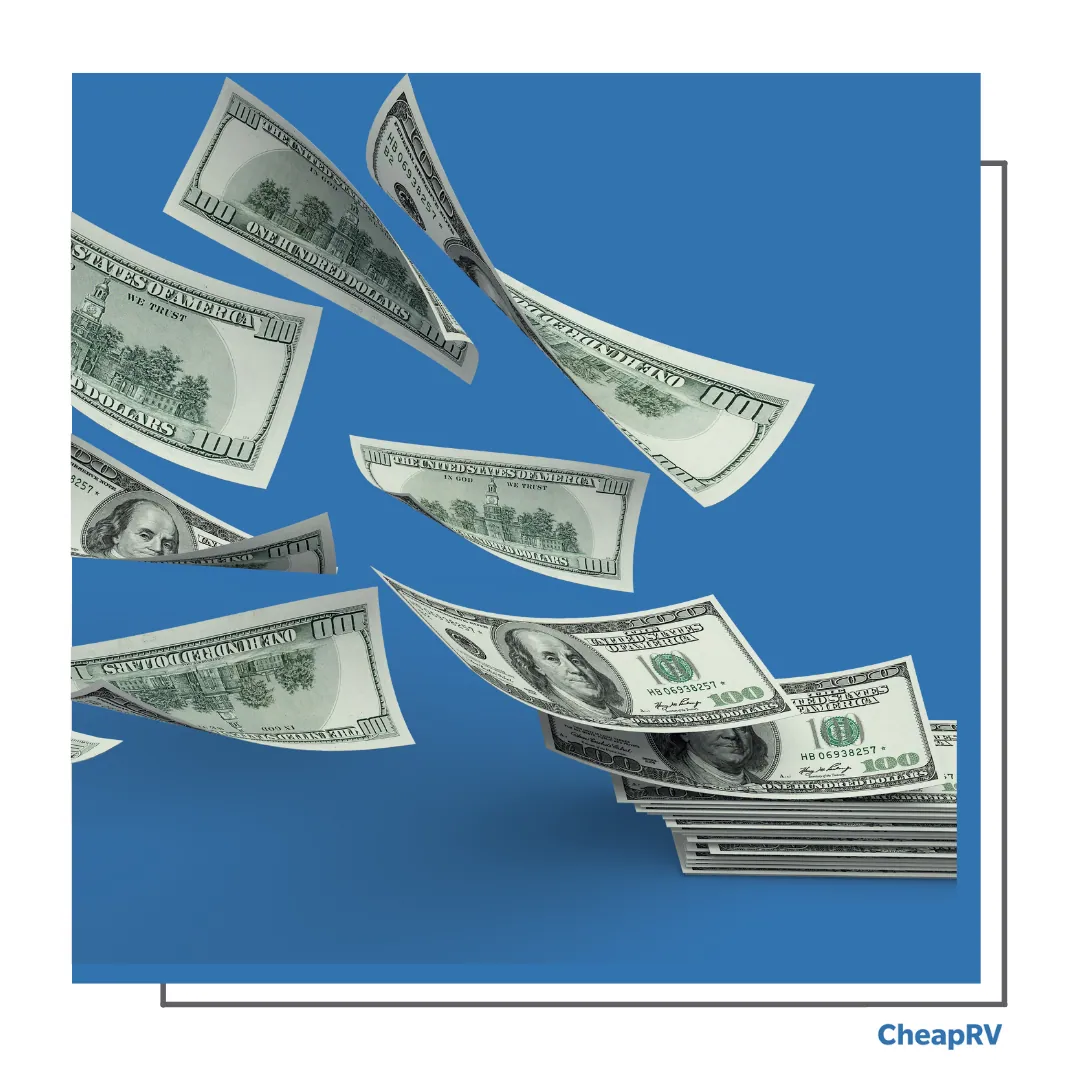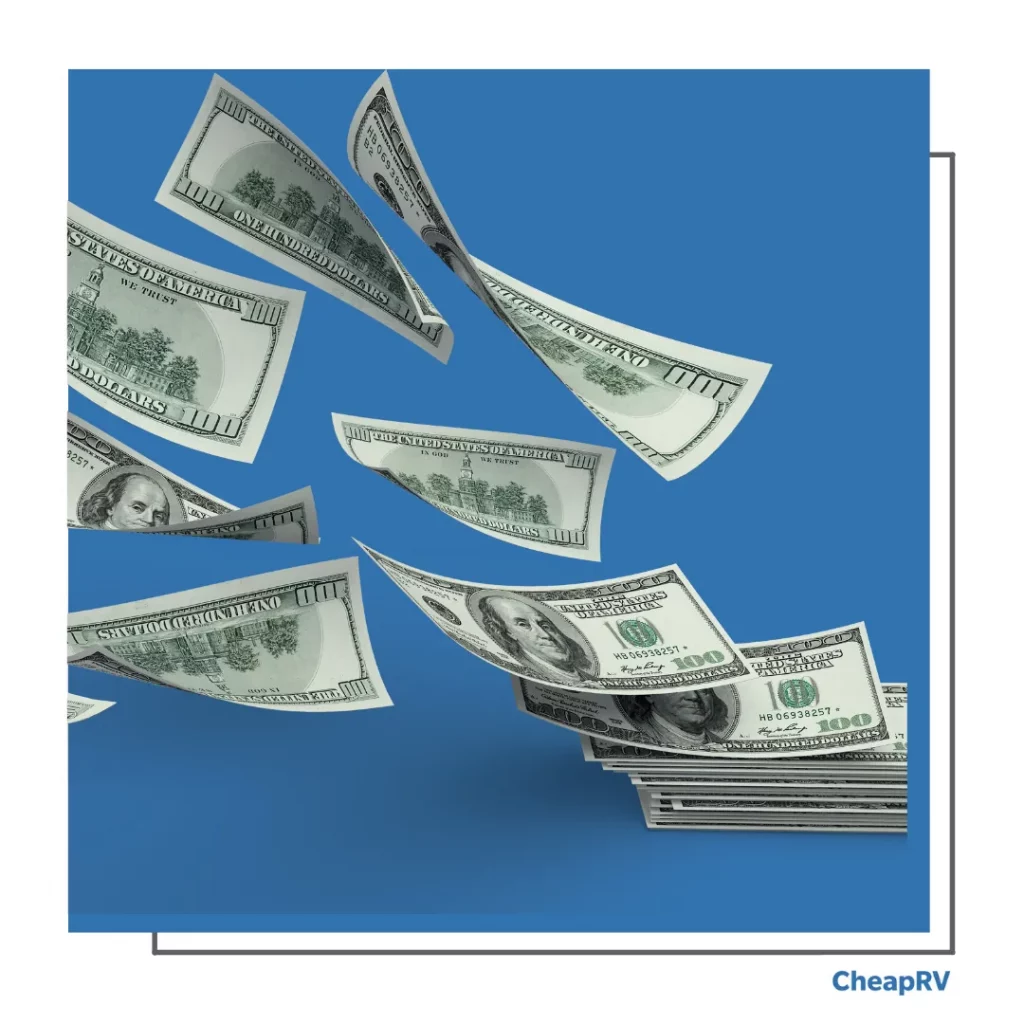 Many factors can affect the overall insurance premium for RVers, including:
Insurance coverage

Driving record

The type of compulsory insurance coverage in your residence state

Deductibles amount

Liability limit
Asides from the above-stated factors, if you want maximum liability, the company will charge you more. The reason is that the higher your liability coverage, the more risk you take with your RV. Your insurance company will ensure that they charge you an amount covering all possible risks and losses.
You will be charged less if your RV's deductible amount is higher. For example, if you have a $500 deductible and your RV gets stolen, it would not be covered by Insurance because it is beyond your $500 limit.
You should also note that your vacation destination can affect your Insurance rate. Most states require every vehicle owner to have minimum coverage limits, but some states require more than others when driving through their state lines (especially for rental vehicles).
Your driving record and history with other forms of transportation (boats, airplanes). Asides from all these factors mentioned above, if you want maximum liability coverage, the company will charge you more than expected.
On the other hand, if you want lower premiums than expected, ensure that your RV's deductible amount is higher because this will significantly reduce overall costs.
Final Thoughts On GEICO RV Insurance
GEICO RV Insurance is a good choice for anyone looking for an insurance plan for their RV. Its coverage is extensive and covers everything you might need in case of a claim. This feature makes it one of the best options, especially compared to other insurance companies.
GEICO has made the insurance premium payment procedure easy for its customers by making multiple platforms and methods available. You can place a call to GEICO customer care or contact them via mail to confirm your payment after making payment.
GEICO's comprehensive coverage plan covers everything you need and is the best choice you can make. The only downside to GEICO is that it is not available in all states and doesn't provide Insurance to customers who rent out their RVs.