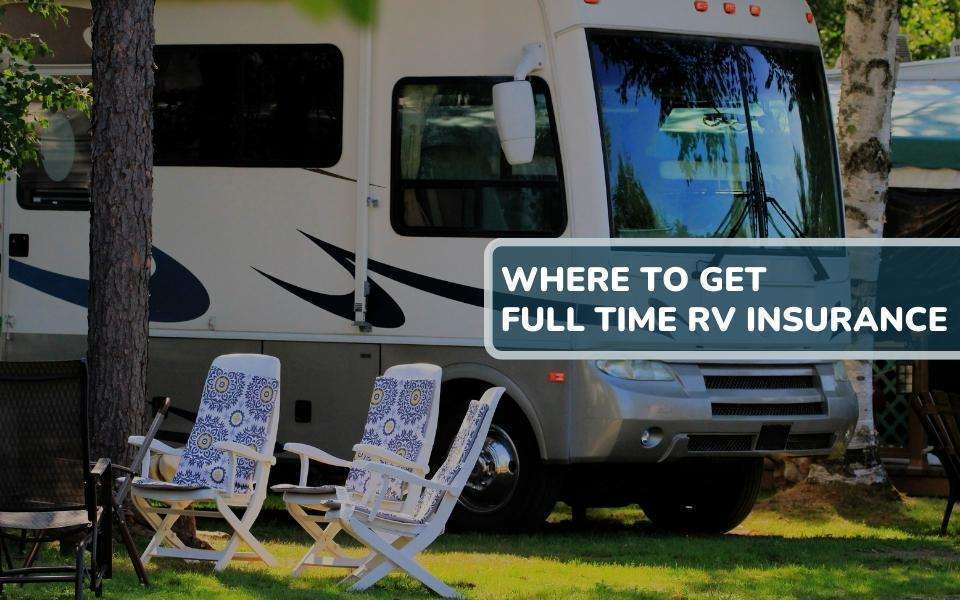 Where To Get Full Time RV Insurance
You've got your dream RV and are ready for a trip around North America. You're covered with Auto insurance, but what about full time RV insurance ?
Unfortunately, full-time RVers often struggle to find a great insurance policy. There are certainly options out there, but they change pretty frequently.
The thing with full-time RV insurance is that while it has similar requirements to auto insurance, it doesn't come with the same level of standardization.
In this article, we'll review the different levels of coverage available, what each type of policy covers, and the best ways to get cheap RV insurance.
Best Full Time RV Insurance
An excellent insurance policy becomes necessary when you decide to use your RV as a primary residence. Having the best policy isn't just necessary for your RV; it's a requirement.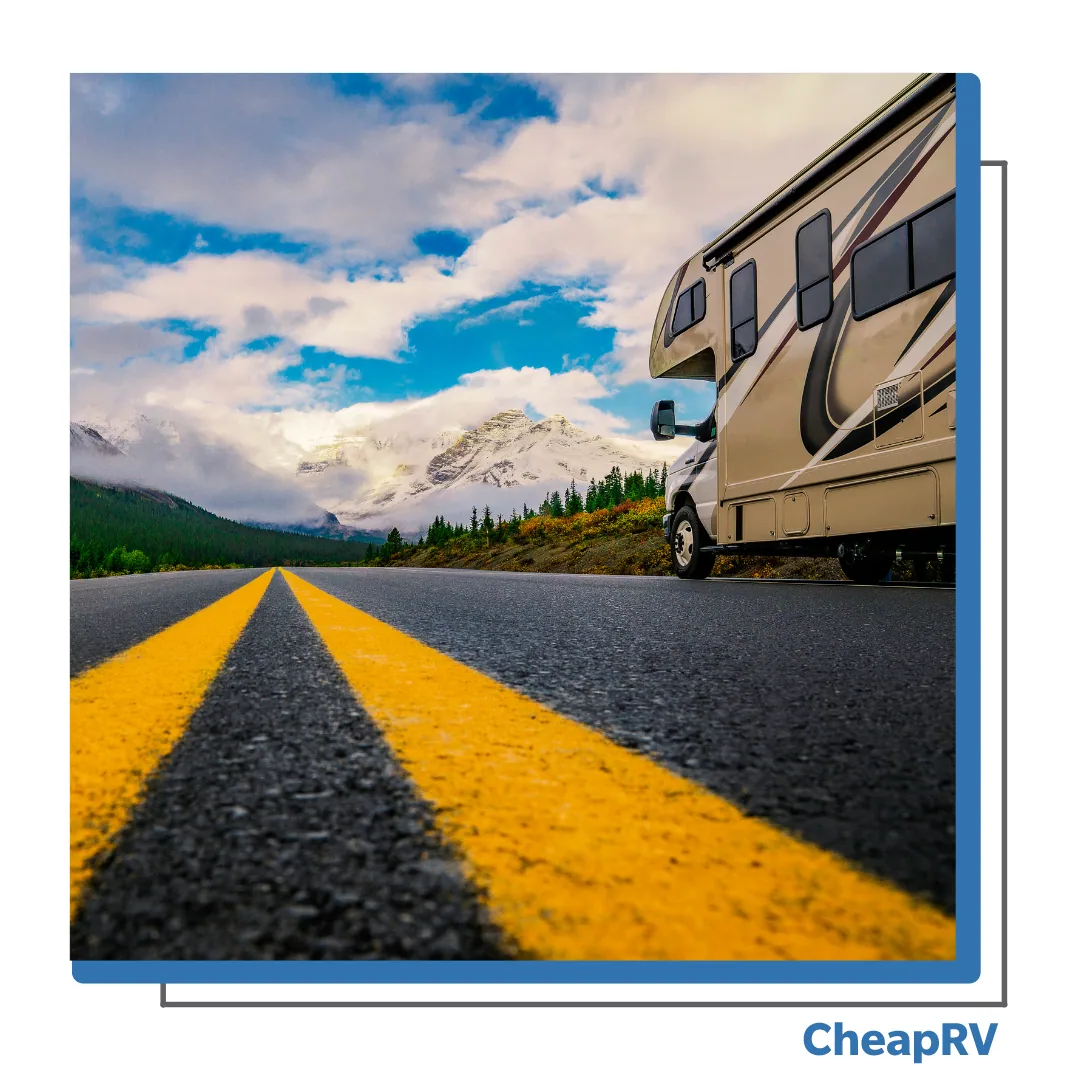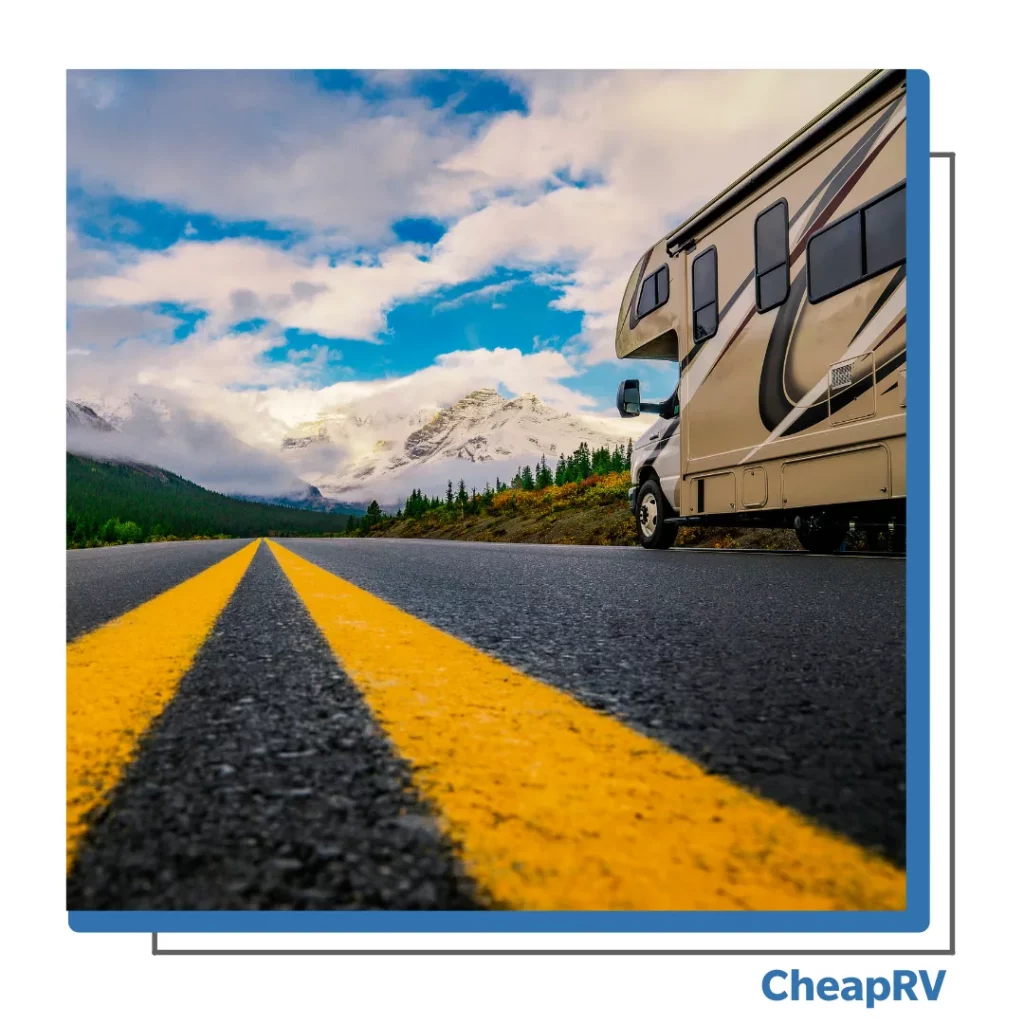 Of course, you can easily access several policies providing coverage to your RV against any accident, but what if someone steals critical RV equipment or damages your RV? You'll need to ensure adequate protection against such situations as well.
If your insurance covers just your RV, you will get coverage against physical damage only. You won't get any additional, comprehensive features.
But when your RV serves as your primary residence, getting full coverage to protect your asset from other potential risks just makes more sense.
Typically a full RV insurance policy gives you the following coverage:
Collision coverage
Underinsured or uninsured motorist coverage
Bodily injury coverage
Property damage liability coverage
Collision coverage
Full-time coverage
Roadside assistance
Total loss replacement coverage
Comprehensive coverage
Attached accessories coverage
Personal property or belongings coverage
Cost Determining Factors of Full Time RV Insurance
When it comes to the premium or cost of full-time insurance, it's not a one-size-fits-all affair. Several factors affect the price of RV insurance for full-time. Here's a quick dive into some of those factors below:
Class of RV
In matters involving insurance coverage for RVs, a travel trailer and a Class A motorhome aren't quite the same – there's a clear difference between them.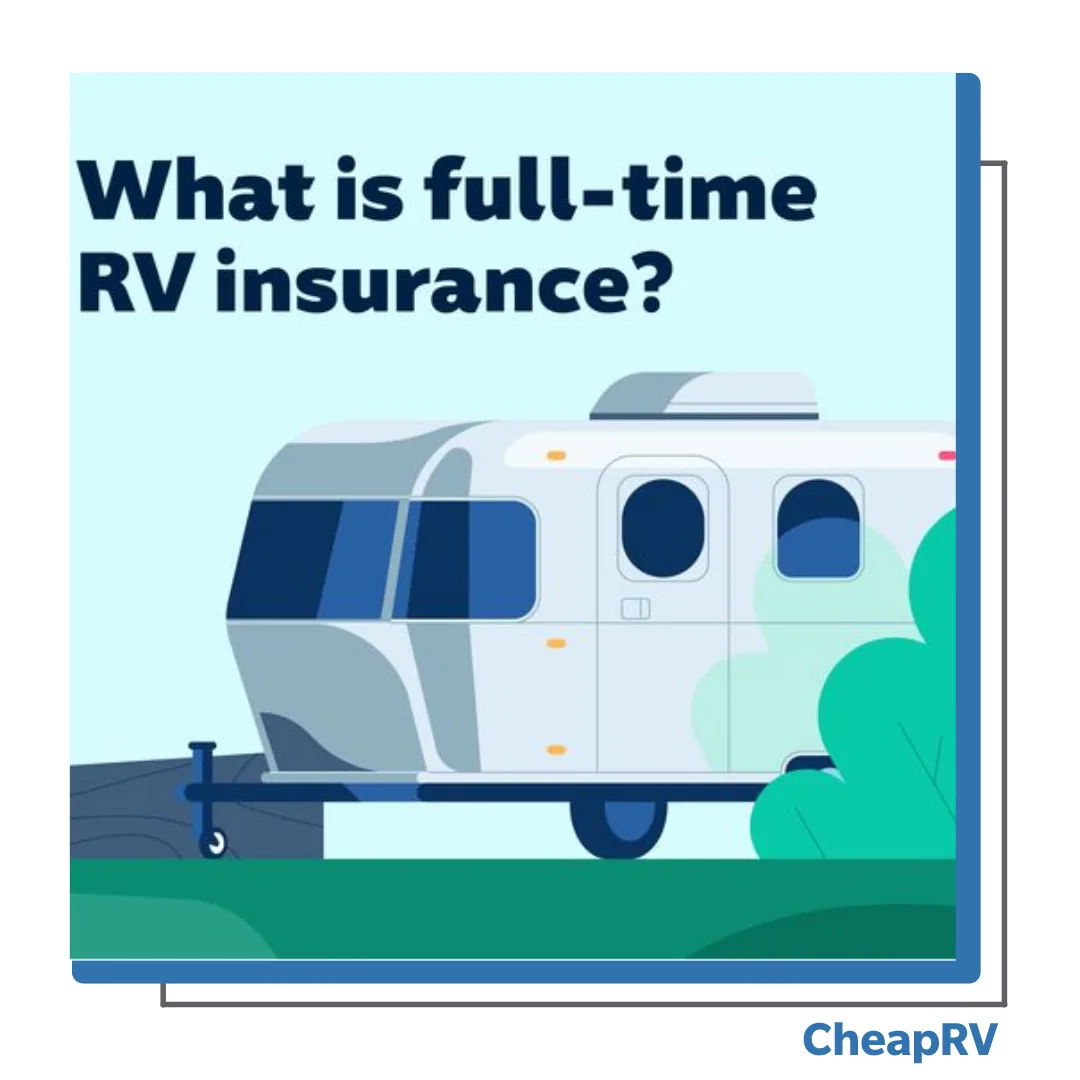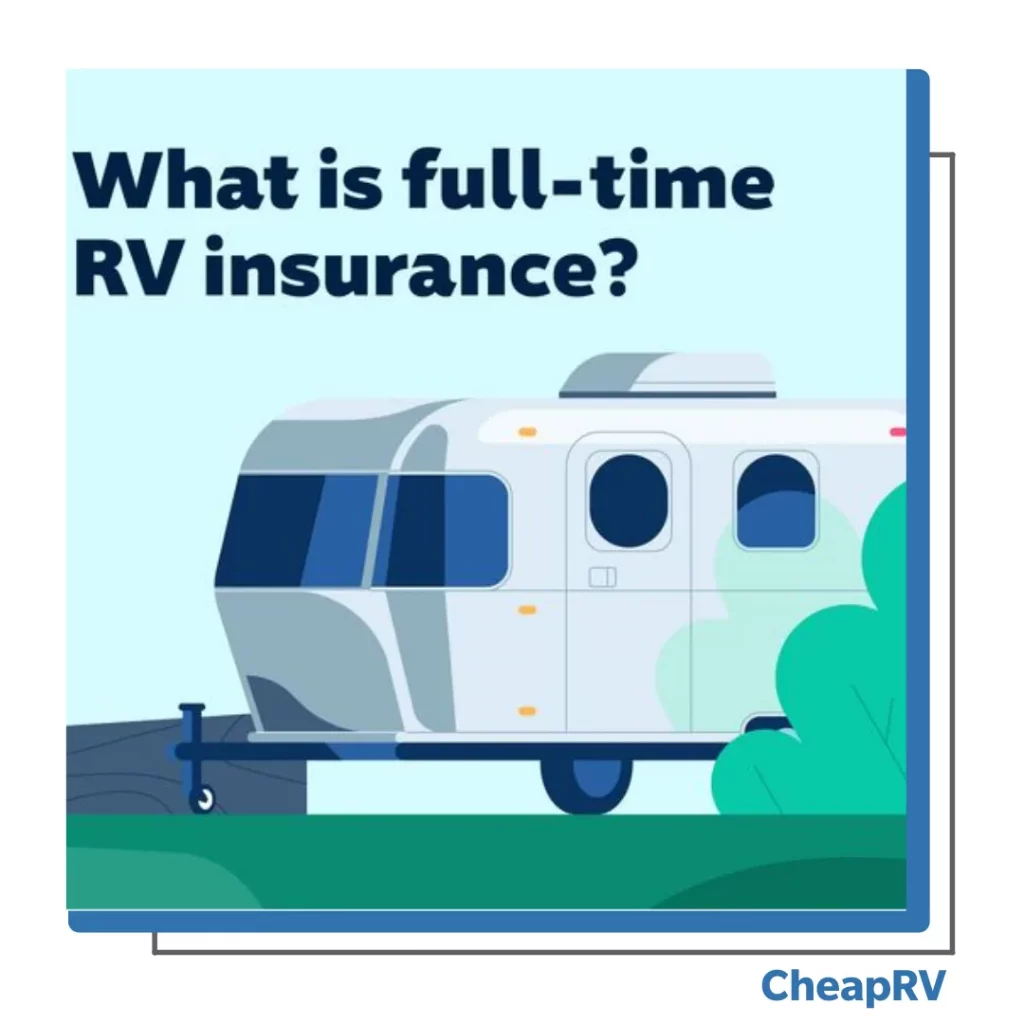 The difference between different RVs in terms of amenities and size significantly affects the insurance premium rate. Here's why:
More features are available in bigger RV models, and repairing or replacing these types of RVs is more expensive than simpler or smaller RVs. However, it's the choice of the campers to live full time in their RV, so they can either own a big or small RV.
And depending on the RV class and the difference in features and associated repair cost for the one in question, the insurance premium rate will be different.
Driving History
Another factor that comes into play in determining the cost of your full-time insurance premium rate is your driving history.
The insurance company will consider you a greater risk if you already have a record of several accidents or speeding tickets. If this applies to you, there isn't much you can do, and the insurance company will charge you a higher premium because of that.
Location
You can expect high insurance costs on your RV if you live in a state with a more serious accident or crime rate or locations more prone to severe weather conditions.
In the same vein, due to stricter regulations in some states, you may need more coverage or insurance for full-time RV living, ultimately increasing your insurance cost.
Pre-Owned Vs. New
Your RV's age and condition are two of the most important determining factors with most insurance companies.
If you're living full-time in an older model, you may have to pay more to account for the extra miles – and consequently lower reliability – on the vehicle.
Claims
Your insurance payment rate will increase if you've previously filed multiple claims for your RV. RVers should file a claim only when they require it, as doing so unnecessarily simply increases the premium you have to pay on your insurance coverage in the future.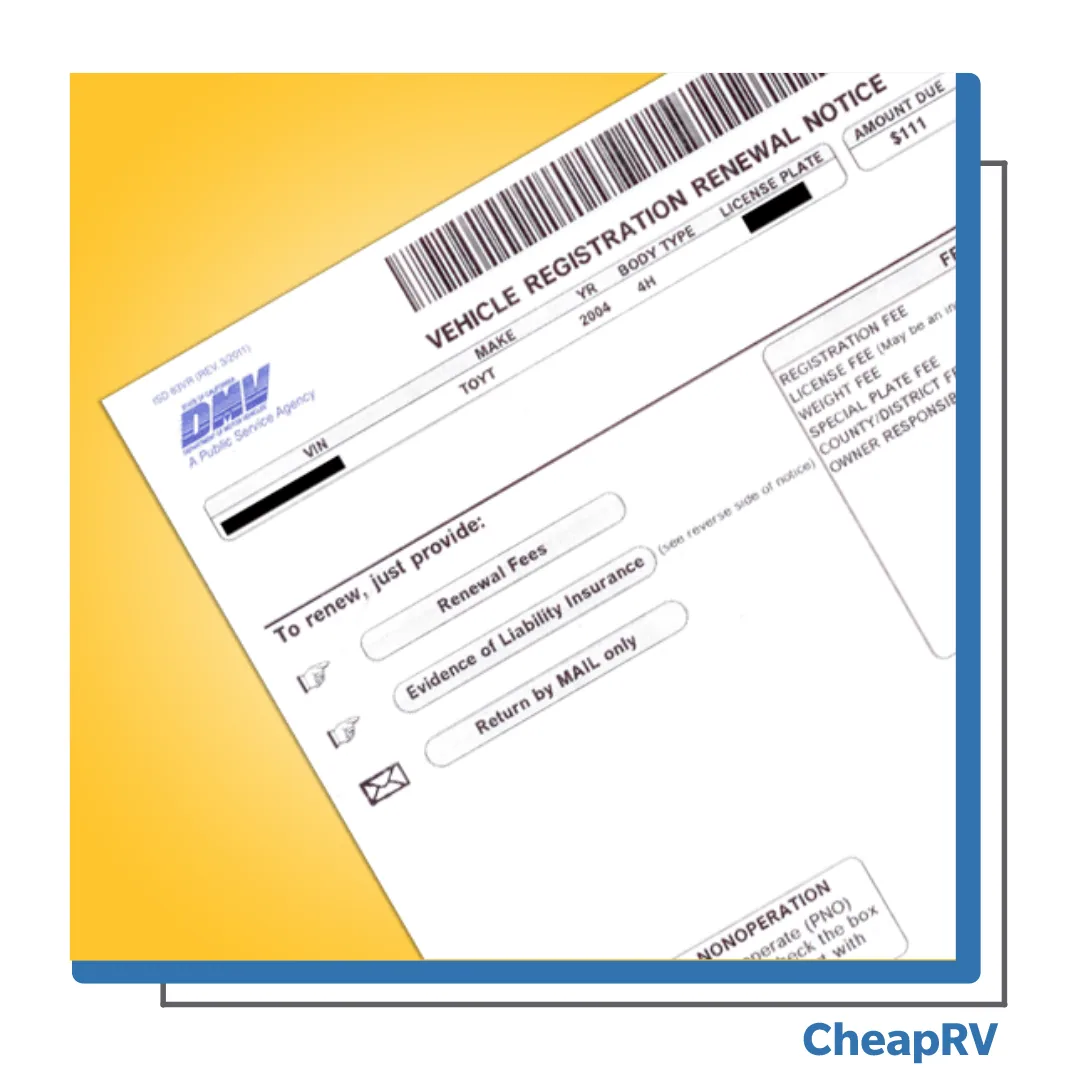 If your RV faces any cosmetic or minor damage, you should spend the money out of your pocket instead of filing claims for it. This practice will provide you the benefits in the long run.
Coverage Amount
Your selected limits and deductibles affect how much payment you make for your RV. Lower deductibles come with lower limits and less coverage. The higher your deductibles, the lower your premiums will be.
However, if something happens and you need to file a claim, you'll have to pay for repairs out of pocket before receiving any reimbursement from the insurance company.
Importance of Full Time RV Insurance
Because full-time RVs are essentially treated as a second home, they're similar to a great extent to traditional home insurance as well.
However, full-time insurance is designed to protect RVers who use their RVs for full-time living. So, if you've lived in your recreational vehicle for more than six months, this insurance is most likely the best option for you.
Full-time RV insurance gives complete protection against injuries, liability, property damage, bodily damage, or other losses. So, it's just the kind of coverage you want to go for if you plan on living in your RV full-time for any lengthy period.
Difference Between Full Time RV Insurance and Short Term  Coverages
If your RV is your home, you want the best insurance coverage for it. The question is, what type of RV insurance do you need? There are two types of insurance policies: full-time and short-term. Both have pros and cons, but one may be better suited to your needs.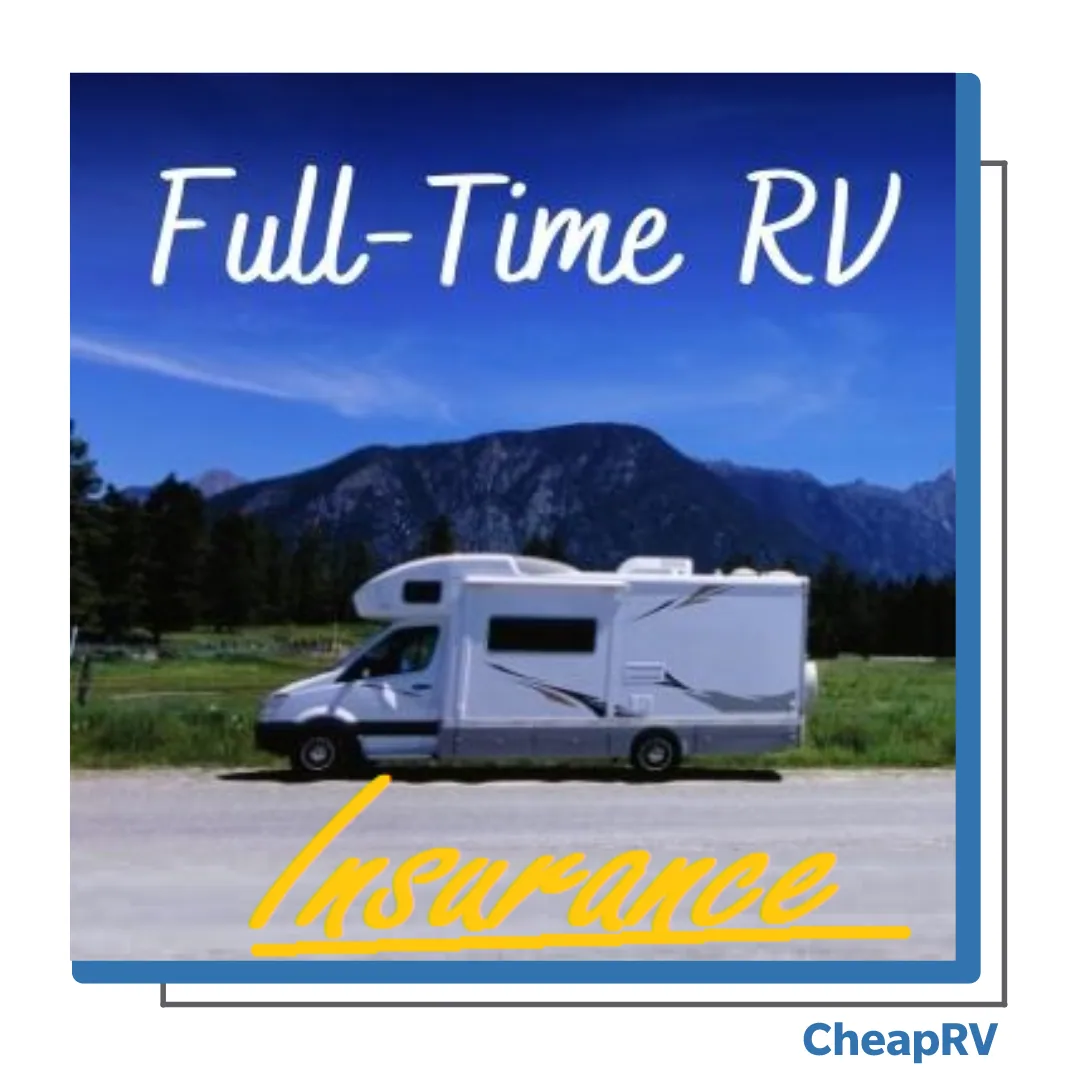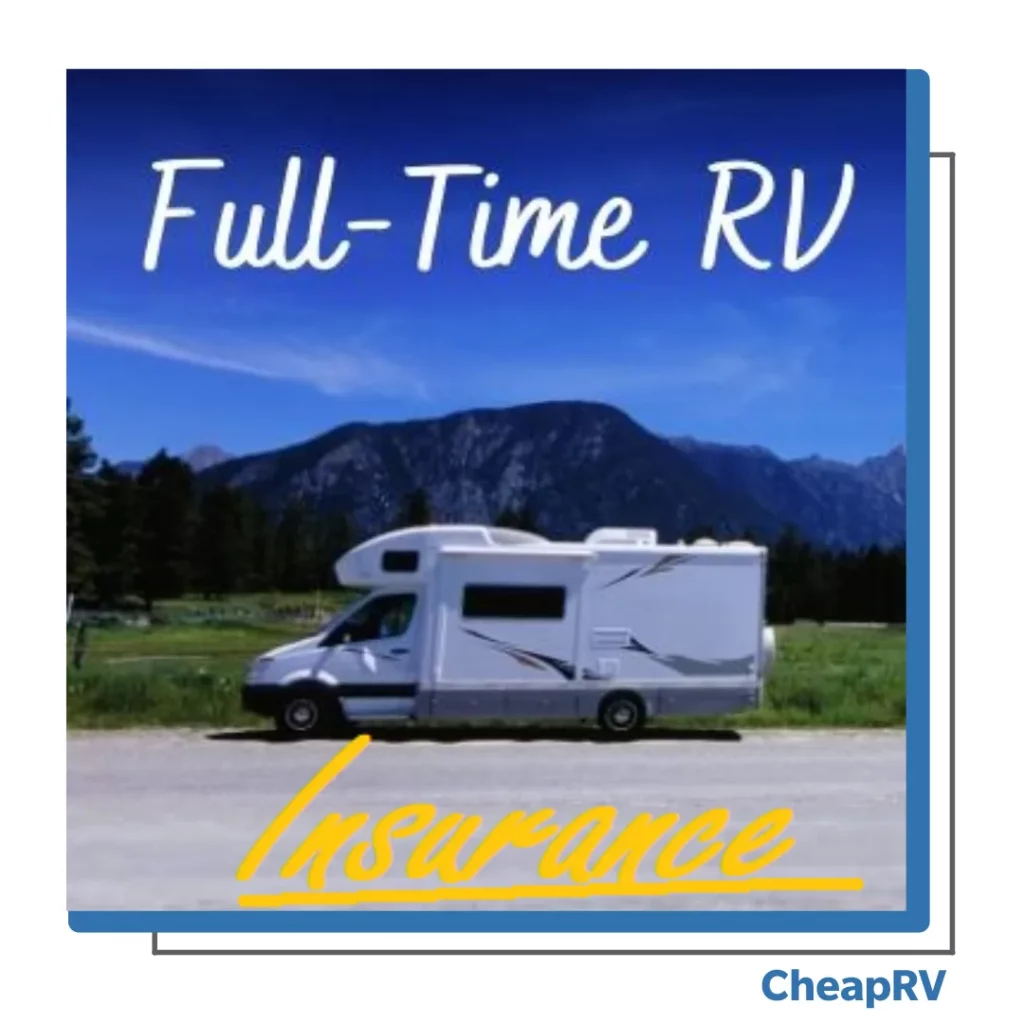 Let's break down the differences in detail.
Full Time RV Insurance Coverages
In a full-time RV insurance coverage scenario, RV owners assume that they must account for all risks to their assets — just like a homeowner.
For these reasons, full-time RV insurance provides coverage for both on-road travel situations and when it remains parked. Coverages for full-time RVers include the following:
Personal Property Coverage: You will get protection under this coverage for repairing or replacing your personal belongings.
Vacation Liability: The full-time insurance for an RV gives vacation liability coverage and pays for any unwanted damage to your RV.
Loss Assessment: This coverage reimburses the RVer's fees and associated expenses for damaged property repair in common areas.
Scheduled Medical Payments: Irrespective of whose fault it is when an accident occurs, this coverage will pay for the hospital bills of the injured passenger. The extended part of full-time coverage will also pay the bill for the injured person who faces an accident during the RV parking.
Adjacent Structures Coverage: If standalone structures are affected on your RV's accident site, this coverage pays for their damage. Think decks, sheds, porches, or carports.
Emergency Expense Coverage: This emergency expense coverage is a lifesaver at a point when your RV becomes uninhabitable because of its damage. So when you need to repair or replace your RV, this coverage pays for temporary lodging.
Short Term Coverages
With short-term RV coverage, basic protections are included in your insurance, working similarly to the auto insurance policy. Here's what you can expect to get should you opt for this coverage option:
Property Damage or Bodily Injury Liability: This coverage ensures protection against your property damage or bodily injury. This type of coverage is required for driving an RV in almost every state, so it's important to acquire.
Medical Payment Coverages: If you get injured in an accident, this coverage pays for the medical bills.
Comprehensive And Collision Coverage: It protects your RV or travel trailer against vandalism, auto crashes, or theft, irrespective of whose fault it is.
Underinsured or Uninsured Motorist Coverage (UMC): If a driver who doesn't have any insurance hits your RV, you will get paid for that under this coverage option. Think Hit-and-Run scenarios in this case.
Where To Get Full Time RV Insurance?
Unlike what you might think, not every insurance company offers full-time RV insurance coverage. In fact, many smaller insurance companies don't offer it at all.
However, if you are shopping for RV insurance from small companies that don't offer full-time coverage, getting outstanding coverage from other similarly small firms works just as well.
Having different insurance together at a time also acts as full-time insurance coverage. If you don't feel cut out for the stress, you can get full-time RV insurance at almost all top insurance companies instead, including the following:
Progressive
Geico
Good Sam
How RV Owners Can Benefit From Roamly
By taking an insurance plan from Roamly, you can save up to 25% more than other RV insurance companies.
In addition, the Passionate RV owners of this company know what coverage types you require for your RV. So you can easily avoid paying the additional cost for your RV insurance by taking a plan from Roamly.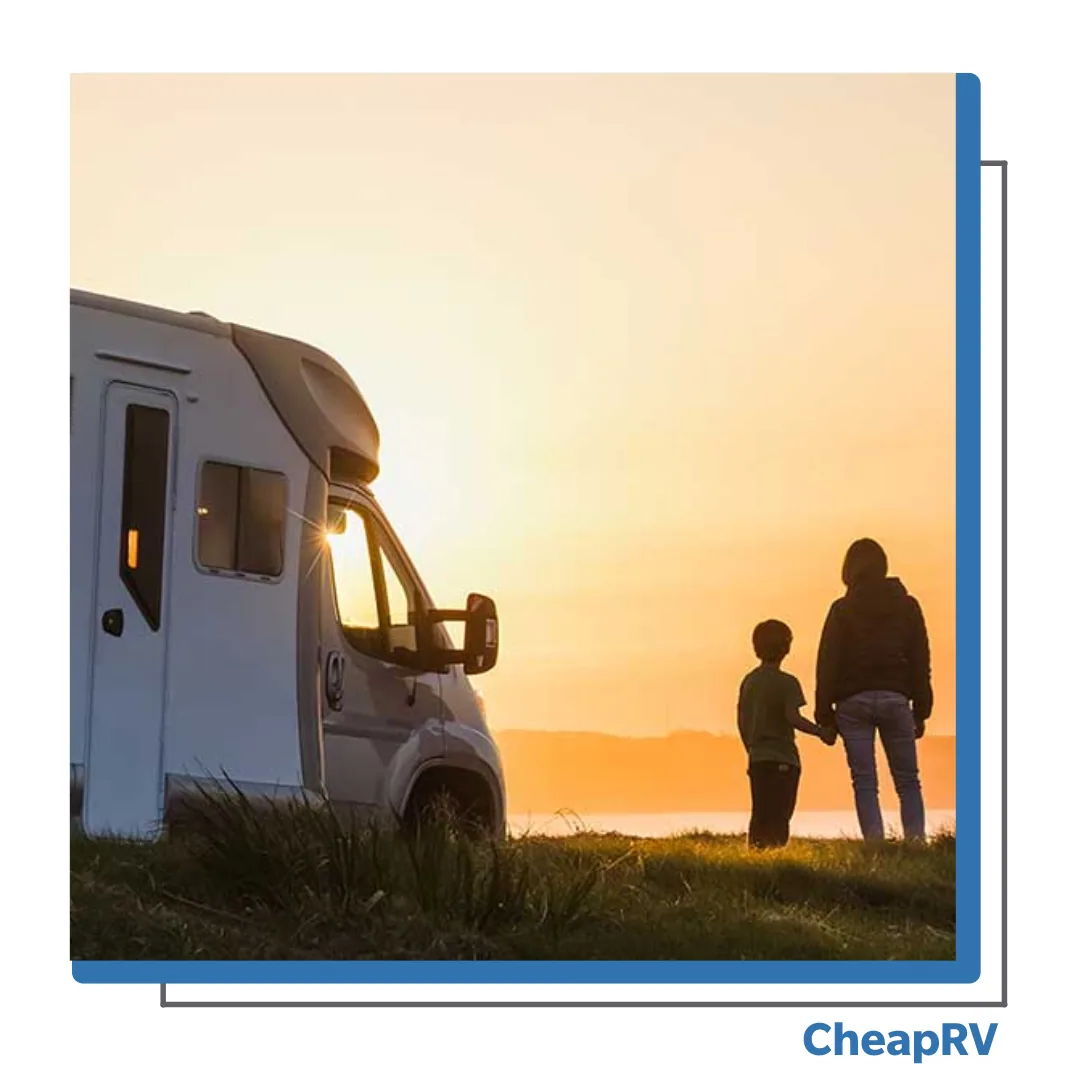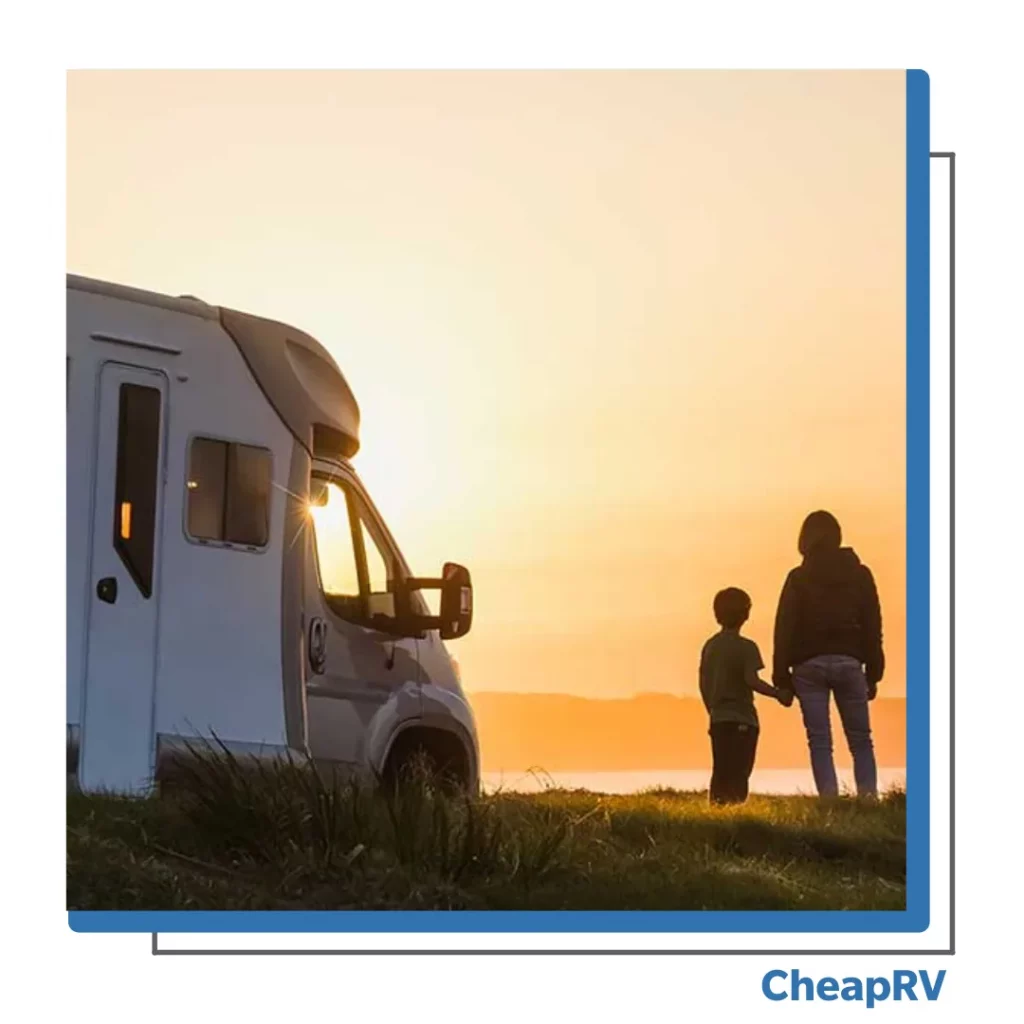 Whether you rent your RV on a rental marketplace or keep your RV ideal in storage, Roamly will not stop giving coverage to your RV. So even if you keep your RV in storage and don't use it, you can easily make extra money from it.
Final Words About Full Time RV Insurance
Overall, full-time RV living offers multiple unique benefits. First, there's the advantage of a simple lifestyle, traveling without paying rent or lodging, experiencing first-hand nature, and freedom to work or live anywhere.
Full-time RV insurance secures these benefits for full-time RVers and allows you to focus on enjoying the RV life rather than the many things that could go wrong while at it.
But don't just think and plan for it. Before starting life as a full-time RVer, you need to ensure your RV's protection against damages and other risks by taking this coverage because it will save you from unforeseen expenses in the long run.