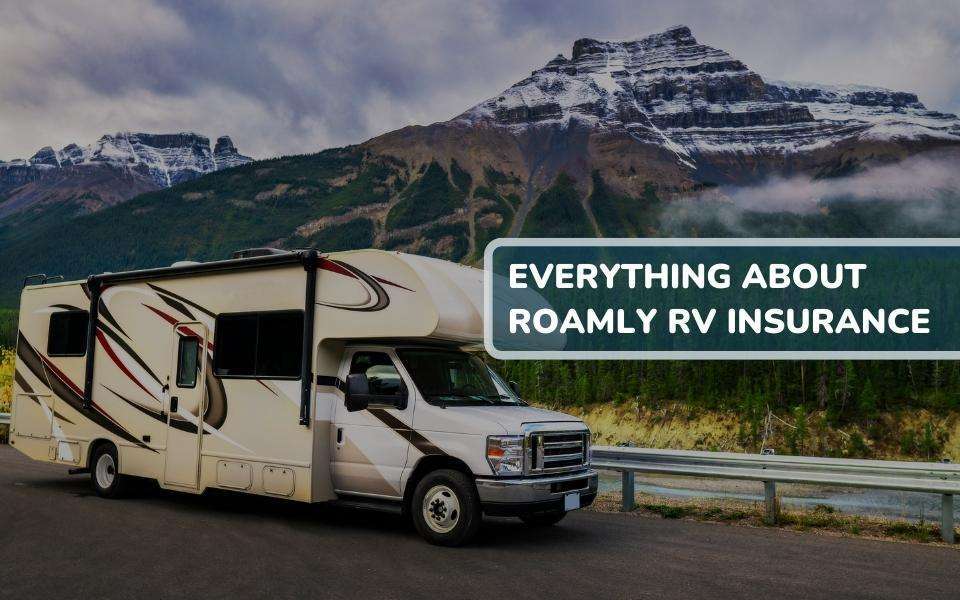 Roamly RV Insurance Reviews
Most states have legal requirements for insuring your RV or motorhome. Unfortunately, meeting these requirements can be a high cost and hassle.
Roamly RV insurance could be a great option to insure your RV especially if you live in a state where insurance is high—or try to take your RV across several states with different laws.
What Is Roamly RV Insurance ?
Roamly is a specialized RV insurance company offering top-notch coverage for RVs and RVers. They're one of the only insurance providers out there that offer specialized insurance for all types of RVs, including Class A, Class B, and Class C motorhomes.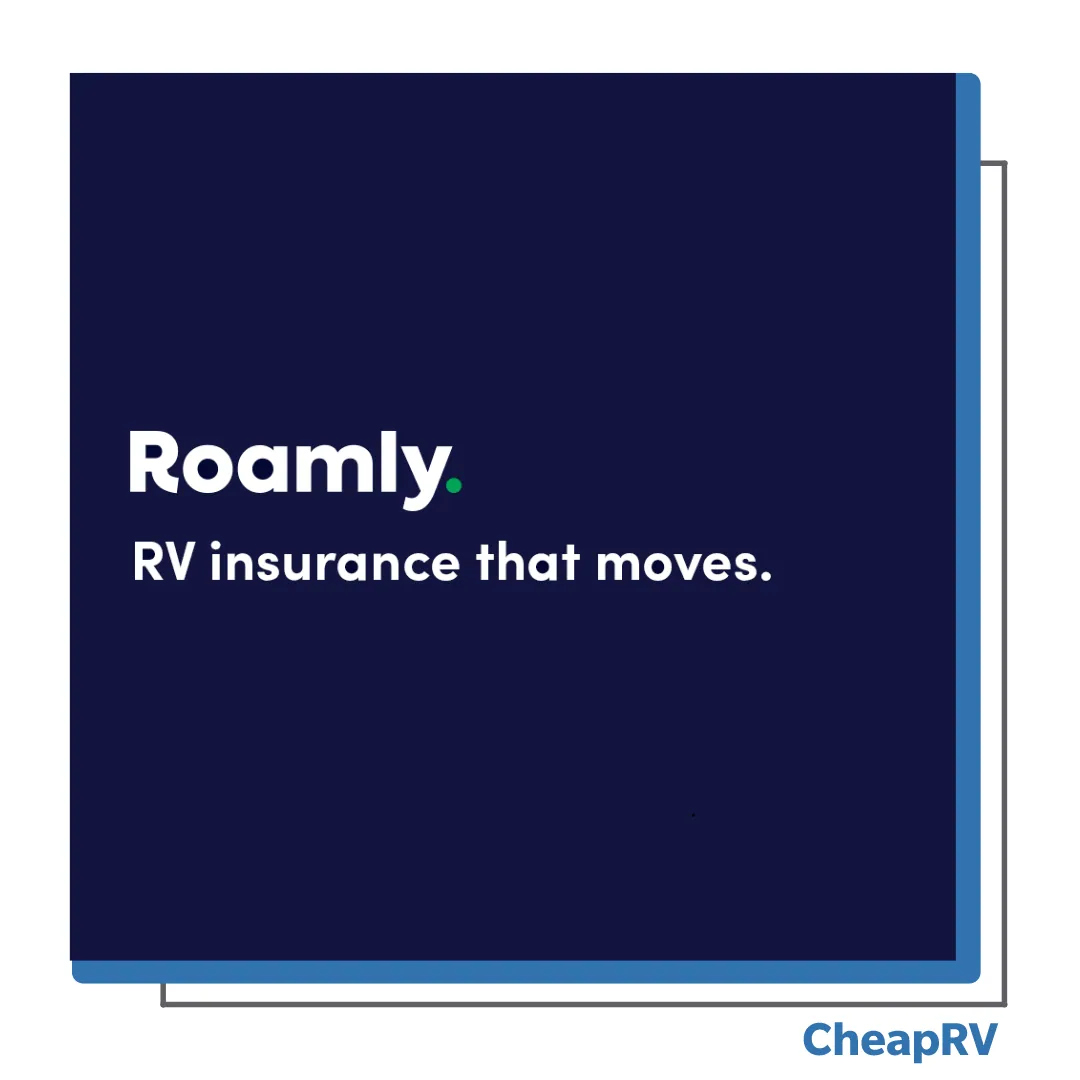 Their goal is to provide RVers with the best possible coverage at the lowest price possible. So if you're looking for an insurance company that will take care of your vehicle like it's one of their own, Roamly is certainly one to try.
Why Is Roamly Unique?
Outdoorsy and Roamly are sister companies. The primary goal of the Roamly foundation is to address the issue of RV no-rental limitations.
That's because purchasing RV insurance from a standard insurance company does not allow you to rent your RV at any rental marketplace or to others.
These traditional insurance companies will cancel your coverage if you rent your RV to anyone else. This detail is explicitly established in every traditional RV insurance policy's "Commercial Exclusion Clause."
That's where Roamly differs from standard RV insurance companies. It provides its users with unique benefits and enables you to rent your recreational vehicle to a different marketplace while maintaining coverage with the firm.
Roamly RV Insurance Coverage And Benefits
Roamly provides insurance coverage for several types of RVs. The Roamly commercial insurance policies are available to both seasonal and full-time RVers. In addition, this insurance firm typically provides the following coverage and advantages to its customers.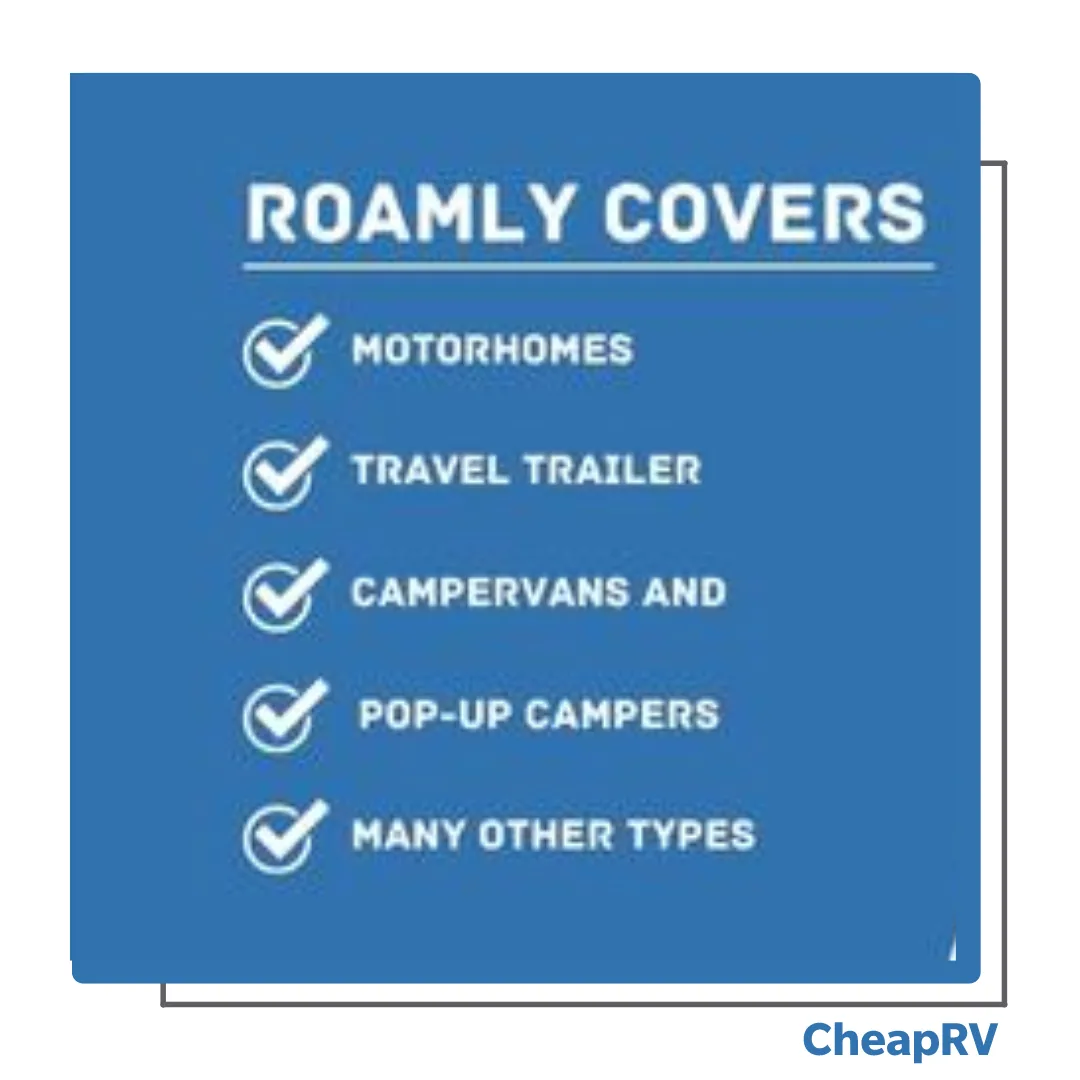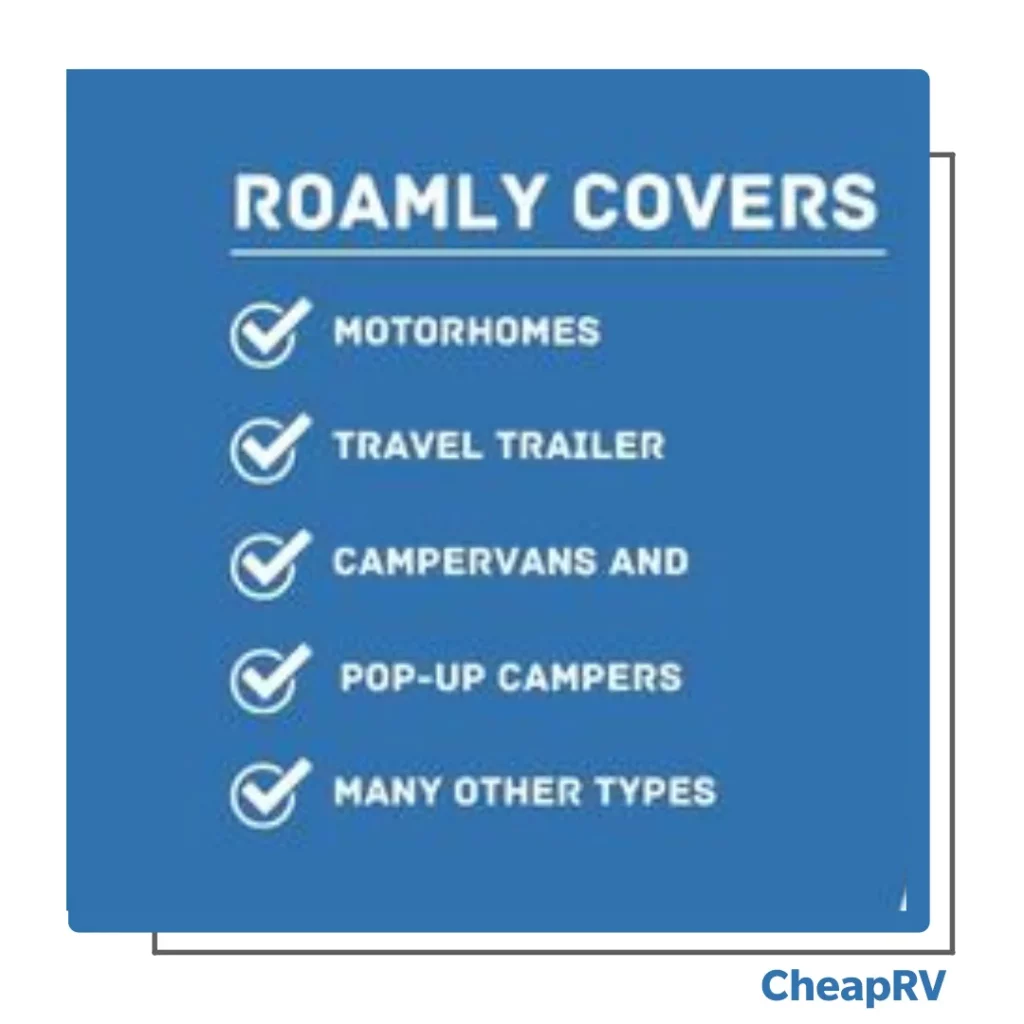 Liability Protection
In addition to the coverage you'll receive from your RV's basic insurance policy, Roamly offers optional liability protection in the event of an accident. This policy includes two types of liability protection:
Bodily Injury Liability: This liability protects others if you cause an accident, whether you're a pedestrian or a driver.
Property Damage Liability: This policy will protect you if you are responsible for causing damage to another person's property.
Roadside Assistance:
If your recreational vehicle breaks down, you can get fuel delivery, towing, jumpstarts, and other services.
Comprehensive Coverage:
This policy provides non-collision-related damage coverage. Under this coverage, for example, your RV is fully protected from theft, hail, and vandalism.
Medical Payments Coverage:
This policy is designed to protect RVers in the event of an accident. In addition, with this coverage, you get medical payments for yourself and your passengers, so no one has to worry about bills and medical expenses at such times.
Collision Coverage:
If your RV collided with any other object or another car, this coverage will make payment for repairing your RV irrespective of which driver's fault it is.
Underinsured/Uninsured Motorist Coverage:
As the name implies, this policy will cover all medical or repair bills should you get involved in an accident with a vehicle whose driver doesn't have insurance.
Roof Repair:
If your RV's roof sustains any damage while you're on this policy, Roamly will replace it at no cost.
Roamly Full-Time RV Insurance Coverage
In a year, if an RVer lives in their recreational vehicle for six months or more, they will enjoy a specialized policy offer from Roamly.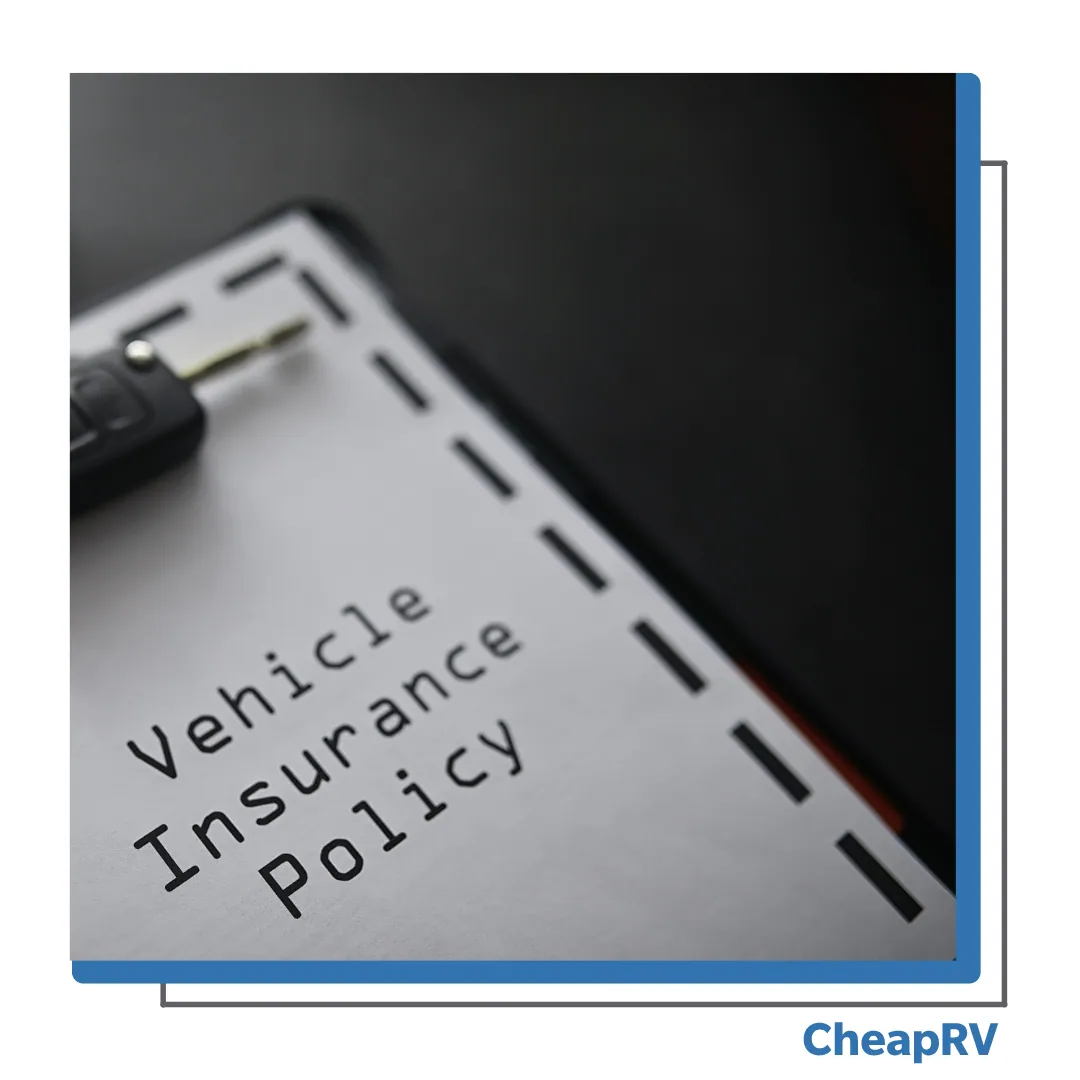 If you plan to live in your RV for more than six months, then you can take advantage of this policy and enjoy the benefits of full-time RV insurance coverage.
Along with all the coverage mentioned above, the full-time RV insurance policy offers the following additional benefits:
Emergency Expense Coverage: If living in your RV is impossible after a major accident, you will be covered under this policy for temporary accommodation.
Loss Assessment: RVers will receive HOA fees for loss assessment under this policy.
Debris Removal: This policy provides financial assistance to clear out any rubble or debris that RVers may have to deal with in the event of an accident.
Adjacent Structures Coverage: Accidents seldom occur in isolation. That's why this policy is designed to protect RVers in the event of collateral damage to stand-alone structures such as carports, porches, or decks.
Coverage For Upfitted And DIY Campervans
Not every RV begins its life as a leisure vehicle. Many vehicles began as vans and were later converted into RVs to serve as living areas for RVers.
Insurance companies frequently provide additional coverage for modifying these vehicles, which is why the Upfitted RVs are classified as traditional automobiles.
The good news is that Roamly will only require a few simple and easy conditions when it comes to professionally upfitting campervans or other vehicles to RVs. In addition, your campervan must feature a semi-permanent and fixed stovetop, fridge, or toilet.
Roamly classifies these structures as semi-permanent if they are strapped or bolted down.
Roamly accepts the sale bill or buildout sheet from your campervan mechanic to determine its financial worth.
The insurance company accepts this charge because they assist in upgrading and appraisal the RVer's conversion van. However, if you do your own RV upgrades, simply provide the details to the company instead.
What Vehicles Does Roamly Cover?
With Roamly RV insurance, you can get the coverage you need for all kinds of RVs and other vehicle types, including:
Motorhomes
Travel Trailer
Fifth Wheels
Pop-up Campers
Campervans and
Many other types
Roamly RV Insurance Costs And Discounts
If you're looking for the least cost or cheapest insurance for your RV, then Roamly isn't the best option.
But if you're looking for a highly competitive insurance premium rate when compared to other companies like National General or Good Sam, then Roamly might be the right choice for you.
With Roamly, you'll also enjoy some great discounts on top of those savings! Here are just a few examples:
Outdoorsy Discount: RV owners will get this discount if their RV is already listed for rent on Outdoorsy. You can also enjoy this discount if you plan on listing your RV within 30 days after purchasing the Roamly policy.
Rent and Save Discount: On renewal, RVers will get this discount also. And depending on the premium you're on, and this Roamly discount can go as high as 25%, making it another excellent way to get a larger discount by renting your RV on Outdoorsy.
Good Driver Discount: If you own an RV, have an excellent driving record, and don't file frequent claims on your insurance, you have a good chance of qualifying for this discount.
Previous RV Experience Discount: Roamly offers a low insurance premium rate for RVers who can prove they have already used and driven RV in the past.
Long-Term Coverage Option: If you have an existing RV insurance within the past six months without any lapse in coverage, then Roamly will lower the premium rate you get on your policy.
But that's not all! Depending on where you live, you may be eligible for further discounts from Roamly. We recommend making inquiries during the quote process with Roamly, so you can learn more about the comprehensive discount options available to you.
Roamly Customer Support
Customer support is an integral part of any business, and we're happy to report that Roamly's customer service team is stellar.
When you're in the RVing lifestyle, you need to know that you can count on your insurance company to be there for you when you need them. Roamly ensures they are always available to answer any questions or concerns that may arise.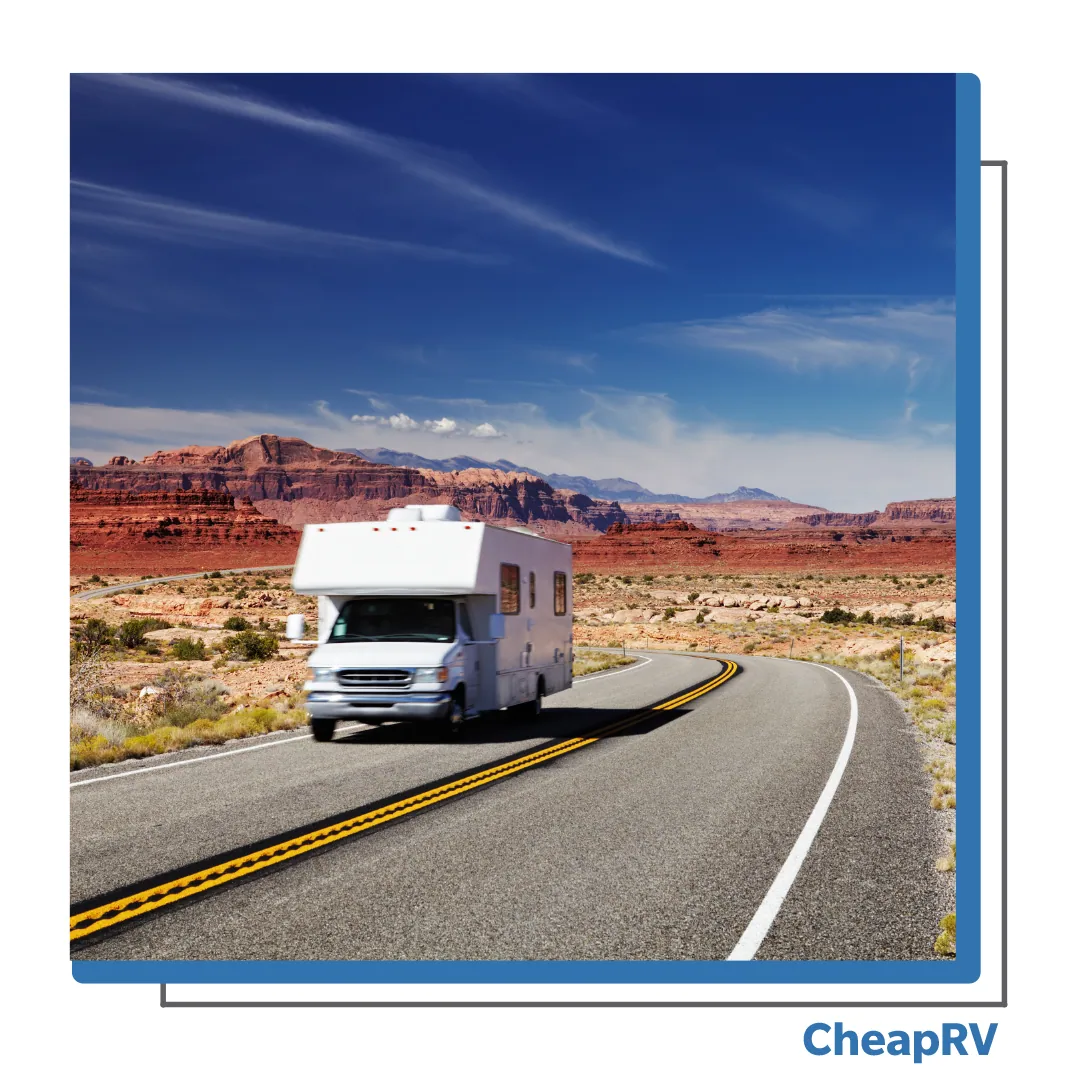 They also have a great sense of humor and are very friendly, which is important when dealing with something as serious as insurance.
In addition, Roamly ensures that they understand what their customers need and want before offering their services, so they can ensure their clients will be satisfied with what they offer.
That means that not only do they offer high-quality products and services, but they also provide excellent customer support as well.
Get A Quote From Roamly
Opting for Roamly insurance plans on your RVs might save you up to 25% more than other RV insurance companies. In addition, this company's passionate RV owners understand what types of coverage you need for your RV.
So, by choosing a Roamly plan, you may easily avoid paying additional RV insurance expenses.
Whether you rent your RV on a rental marketplace or keep it in optimal storage, Roamly will continue to provide coverage for it. Thus, even if you store your RV and never use it, you can easily generate extra money from it.
Final Thoughts About Roamly RV insurance
Roamly RV insurance is a great, affordable option for people who want to protect their RVs. Also, it's a good choice for people who want to be able to spend time with their family but don't want to spend too much money on their insurance.
Roamly RV insurance has some great features that make it a viable option for anyone looking for coverage. It's easy to get started, and there are no hidden fees or charges.
Roamly wants you to have the best possible experience using their product, so they offer 24/7 support and a simple process for getting started.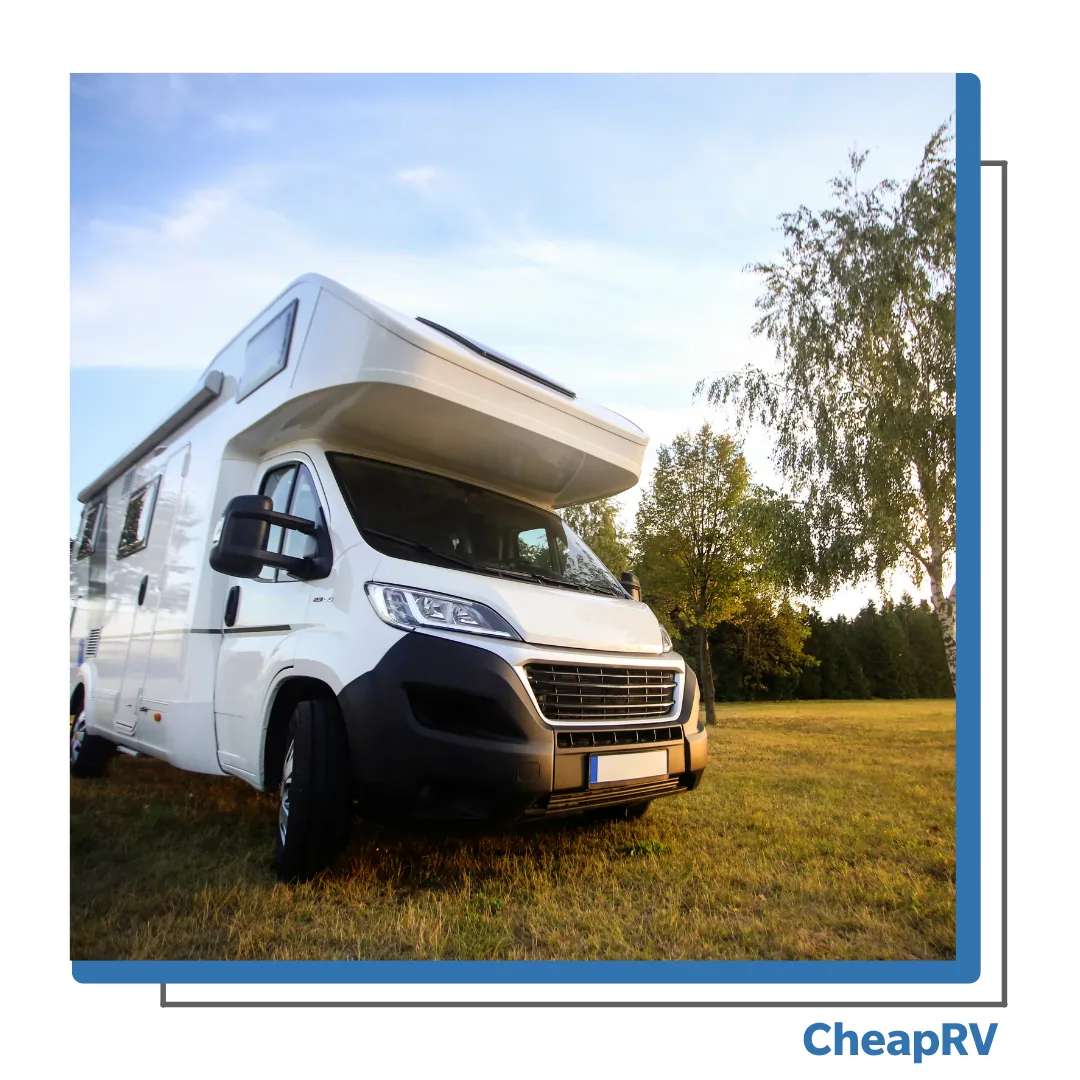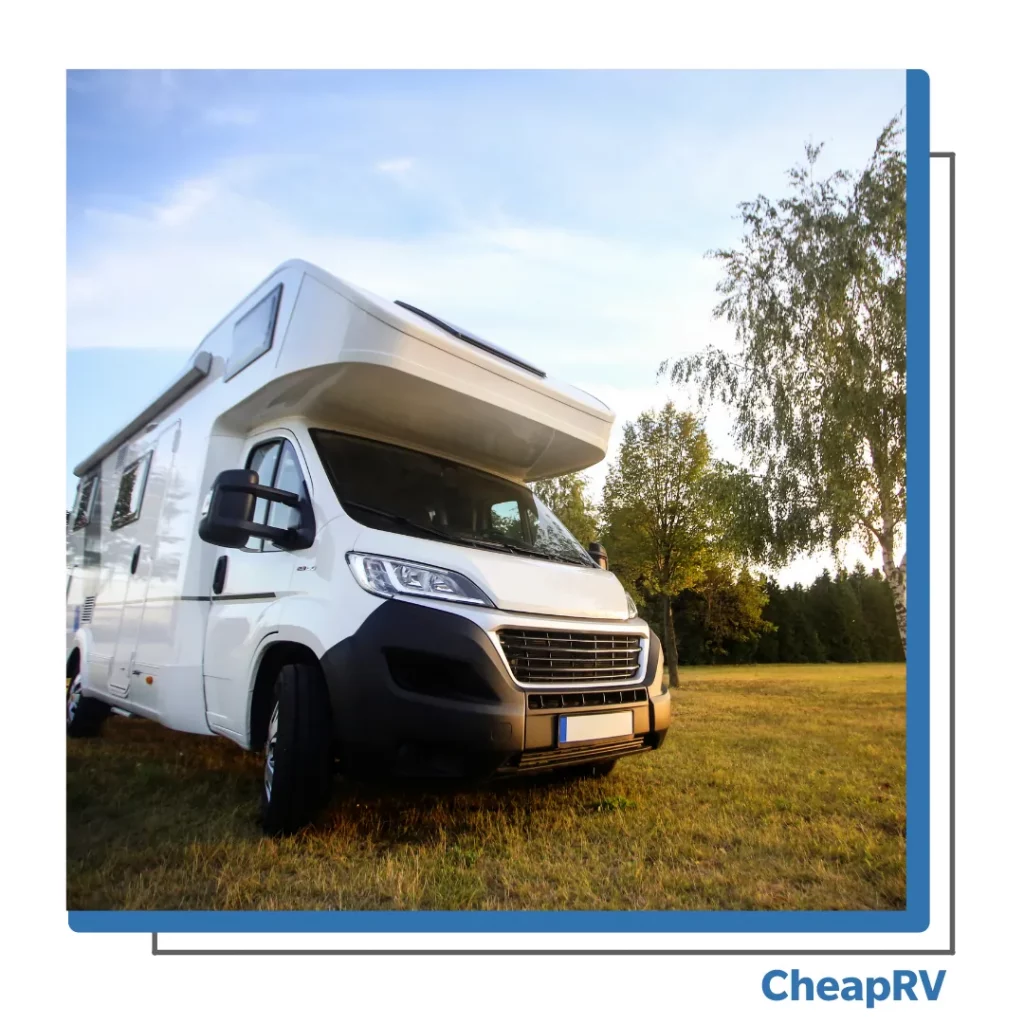 The coverage that Roamly offers is also excellent. You can choose from different levels of coverage based on what works best for your needs, but all of them come with great features like roadside assistance and theft protection.
If you're looking for an affordable way to protect your RV while still enjoying life with your family, Roamly RV insurance may be just what you need!